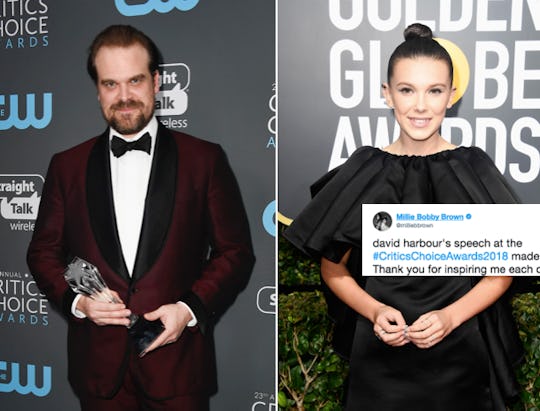 Frazer Harrison/Getty Images Entertainment/Getty Images
David Harbour Honors Millie Bobby Brown In His Critics Choice Speech, & Yeah, You'll Cry
Just when you thought the real-life relationship between the actors who play Eleven and Chief Jim Hopper on Stranger Things had reached peak adorable, it got ratcheted up another notch. David Harbour's Critics Choice Awards speech after being named Best Supporting Actor in a Drama Series was an ode to Millie Bobby Brown, and the relationship between their characters. Harbour described the Season 2 story arc with such feeling, it's almost hard to remember that he's not actually a gruff, small-town police chief fostering an orphan with psychic powers.
If you've yet to watch the Netflix series, bookmark this page and spend the weekend catching up, because Harbour's speech contains spoilers, and if you haven't already heard it from literally everyone you know, it's a must-see.
In Stranger Things this season, Hopper spends the majority of the fall of 1984 holed up in a cabin with a maturing young woman, desperately, stumblingly trying to care for her as her ever adapting evolving needs slip though his unsophisticated fingers, his rigid beliefs, his fear that the world isn't ready. The world isn't ready for the secret inherent power she has inside her. She's feral. He her guardian. The cabin is safe, comfortable, and it's dangerous out there. And yet she leaves, and when reconnected with her sister, she is lit aflame. And she carries this fire, this light back to Hawkins, and reunites with Hopper.
The desperation and fear Harbour referred to isn't solely about Eleven's telekinectic powers, and her role in saving the town from monsters. The mysterious girl who was raised as a science experiment has become a stand-in for Hopper's own daughter, Sara, who he lost to cancer at age 5. He may have originally taken Eleven in because he felt it was his duty as a police officer, but over time, their relationship has evolved, and he's afraid of losing her. Harbour continued:
And now he, himself, must be guided the North Star of her powerful coming to being, because he loves her, and because he needs her. She is the key to suturing the wound, resurrecting life, cleansing the infection, closing the rift. If it likes it cold, she brings heat. And so he grabs his shotgun to blast some smaller beasts, to give her time to confront the dark, monstrous shadow that bathes Hawkins in darkness, that grows like a mold under the entire town. And when all's done, Hopper can offer her one thing: he can get her a birth certificate. He can offer inclusion. He can offer her freedom from exile. And he does. And it is my great honor to play him.
Again, Eleven's role is twofold: that "wound" she's charged with healing could refer to the town's, but she's also healing Hopper's emotional wounds at the same time. That's a lot of work for a kid, but both Eleven and Brown, who plays her, are strong and smart enough to handle the job. Harbour closed his speech by thanking three women: "my sparring partner, the gifted, the incomparable Millie Bobby Brown; my colleague, and the light on long nights of shooting, the incandescent Winona Ryder; and my mother."
Brown later tweeted that Harbour's speech made her cry, adding, "Thank you for inspiring me each day and making me realize how lucky I am to be doing this amazing job called acting." It's clear that the adoptive father-daughter dynamic has seeped into the actors' real lives. In a recent interview with Insider, Harbour said it was tough on him to film a scene in which the two had a heated argument, but "I wanted to treat Millie with the respect she deserves as my female costar, and really give her my all and my power, and she's able to give it right back. So that was a very complicated day." Speaking with Variety, Harbour said he's protective of his costar, and though she usually has her parents and adult sister with her on set, he's ready to serve as a backup any time. "I tell you what," he said, "She's got me. And I'm the biggest curmudgeon around." Best fake dad ever.
Check out Romper's new video series, Romper's Doula Diaries:
Watch full episodes of Romper's Doula Diaries on Facebook Watch.