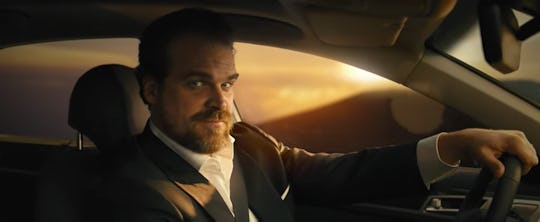 Tide/YouTube
'Stranger Things' Fans Will Love David Harbour's Super Bowl Tide Ad
Do you love Stranger Things? What am I saying? Of course you do. That means you undoubtedly are head over heels with the lovable Hawkins police chief Jim Hopper played by David Harbour. But even though the series is currently on hiatus, David Harbour's Super Bowl Tide ad that debuted during Sunday night was a great way fill the demogorgon-sized hole in your heart. And Twitter was here for it.
Throughout the clip, Harbour is shown in a variety of different situations. First, he's in a car, making you think it's just your typical, run of the mill car ad. But then it cuts to him in a bar. Could this be a beer commercial then? Not so fast! Then you see him wearing all white and floating in the clouds for... whatever ad that is supposed to be for. (Not even Harbour appears to know what it is, though.) But nope, midway through Harbour finally lets us in on the secret: "It's a Tide ad," he said. Regardless of the situation, or what it may look like, this is all about Tide. So what makes it a Tide ad, exactly? Where does the brand factor in? It's because everyone's shirts are so darn clean, of course!
From soda commercials to shaving commercials, Harbour pops up in each one to remind us that this is about one thing and one thing only — Tide. I honestly never knew I needed to see this Stranger Things actor go through so many costume changes, but now that it's happened I don't know how I've lived without it. And neither does Twitter. Fans could not get enough of this hilarious commercial that proved to be just as charming as Harbour himself.
Suffice to say, it will definitely reaffirm your love for Stranger Things and Jim Hopper himself. But this wasn't the first time we've been introduced to a Harbour Tide ad before. Prior to the Super Bowl, a Tide teaser ad came out that featured Harbour and former NFL star Terry Bradshaw interacting in a series of fun skits. However, Bradshaw was nowhere to be found in the official commercial. It was all about Harbour, though don't think there's any bad blood between the two stars.
"They decided to go a different direction this year and use David," Bradshaw told to HollywoodLife in an interview. "As a promoter of America's No. 1 detergent, Tide, and having used it my entire life, I am a natural believer. It gets the stains out, I proved that to you last year. And, I am here to sell him on the idea that the stain isn't the star, David, you are! Don't give in!" And a star he truly was. No one had anything bad to say about the ad.
But just when you thought things couldn't get any better than that, there was more. A few rounds of commercials later and Harbour popped up in yet another Tide ad with none other than the Old Spice guy. The two of them were shown on a horse and really need I say more than that? Twitter pretty much lost it at the sight of these two together.
It's everything we could ever want in a Super Bowl ad. Harbour asked at the end of his official Tide commercial whether or not every ad was a Tide ad. It seems like he's doing everything in his power to convince us that yes, it is. And you know what? I'm totally OK with that. If it means more Harbour on my screen, then sign me up.
Check out Romper's new video series, Romper's Doula Diaries:
Watch full episodes of Romper's Doula Diaries on Facebook Watch.