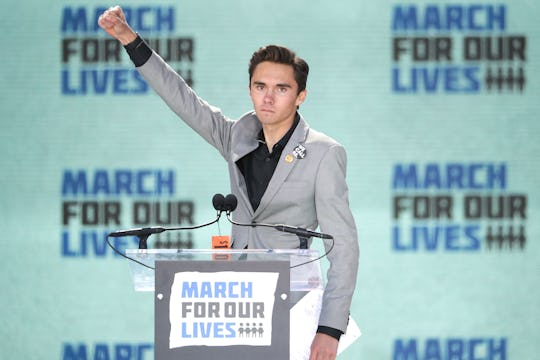 Chip Somodevilla/Getty Images News/Getty Images
David Hogg Has *This* To Say To Laura Ingraham After Her Apology
Though it would have been absolutely reasonable if Marjory Stoneman Douglas High School senior David Hogg and his fellow survivors had asked for privacy following the Feb. 14 mass shooting that left 17 people dead, instead, they pretty much did the exact opposite. The brave group has since been leading a powerful movement for gun safety legislation, and they haven't backed down despite plenty of harsh, right-wing criticism. On Twitter Wednesday, for example, Fox News host Laura Ingraham mocked Hogg for apparently whining about his college admission rejections and though she later took back the comment due to backlash, David Hogg's response to Laura Ingraham's apology shows that he definitely didn't think she was being sincere.
A day after sending her initial tweet, Ingraham took to Twitter once more and wrote, "I apologize for any upset or hurt my tweet caused [Hogg] or any of the brave victims of Parkland." But when NBC News' Kerry Sanders asked Hogg later that day whether he accepted Ingraham's apology, he said he didn't, adding, "She only cares about her pocketbook, and that's just sad." On Friday, Hogg echoed that sentiment in a separate interview with CNN's Alisyn Camerota, and said, "She's only apologizing after a third of her advertisers pulled out."
Hogg's emergence as a central figure of the push against gun violence in the wake of the Parkland shooting has made him a target for many who want to take issue with the movement. Despite the fact that none of the survivors asked to be put in this position, and despite the fact that they all endured an incredibly traumatic experience less than two months ago, many of their critics have lashed out on social media for what they consider to be the group's attack on their Second Amendment rights. But after Ingraham took her latest swipe at Hogg, she faced some pretty intense consequences.
In her tweet, Ingraham wrote, that Hogg was "rejected by four colleges," and "Dinged by UCLA with a 4.1 GPA." It's not entirely clear what Ingraham's tweet actually had to do with gun violence (perhaps that Hogg's less-than-perfect GPA means he should be disqualified from having an opinion, despite the fact that he's literally the one who lived through a mass school shooting?), but it definitely made waves on Twitter. Instead of defending himself though, Hogg took a different approach, and called for a boycott of the companies currently sponsoring Ingraham's show.
The move worked: according to NBC News, a number of advertisers pulled their ads, including TripAdvisor, Expedia, Hulu, Johnson & Johnson, Wayfair, Nestlé, and Nutrish. And as much as Hogg may not have been impressed with Ingraham's apology, he was pretty happy that the public pressure placed on Ingraham's advertisers worked. He told CNN,
I think it's great that corporate America is standing with me and the rest of my friends. Because when you come against any one of us, whether it be me or anybody else, you're coming against all of us. And I think it's important that we stand together as both corporate and civic America to take action against these people and show them that they cannot push us around, especially when all we're trying to do here is save lives.
Unsurprisingly, a number of Ingraham's supporters still stood by her, and argued that she shouldn't have had to apologize at all. But Shannon Coulter, co-founder of the #GrabYourWallet movement, told The Washington Post that the effectiveness of Hogg's Ingraham boycott proved the powerful impact that public pressure on corporations can have. She explained,
Corporate America has a really positive role to play in preventing that kind of targeted harassment. It's not just that one tweet. It's that [Ingraham is] signaling to her large audience that it's okay to do that. Particularly when minors are concerned, I think there's a line that corporations can draw that apparently Laura Ingraham's parents didn't draw.
As for Hogg's college rejections, he probably doesn't have to worry too much about them. Though he did admit to NBC News that "it hurts to be rejected from college, obviously," Hogg has also already been accepted to Cal Poly San Luis Obispo, California State University San Marcos (CSUSM) and Florida Atlantic University — and, in light of his impressive advocacy and leadership, it's also entirely possible that he could appeal his rejections if he wanted to.
As independent college admissions counselor Elizabeth LaScala explained to NBC News, Hogg could always use his activism to show the colleges that rejected him that "he's more proactive, more capable of making important decisions about how he uses his time and how he leads his peers." Because, let's face it, being able to help lead a national movement against gun violence is far more impressive than simply getting good grades.
In any case, it seems pretty safe to say that, right now, Hogg has more important things to concern himself with, and that the contribution he's making is so much more valuable than just being something he can use to get into university. By standing up for what he believes in, he's also helping to show the next generation of voters that it is important to speak up on the issues that affect them. And, if his impact so far is any indication, the work of Hogg and his classmates will likely make a big difference in future election results as well.