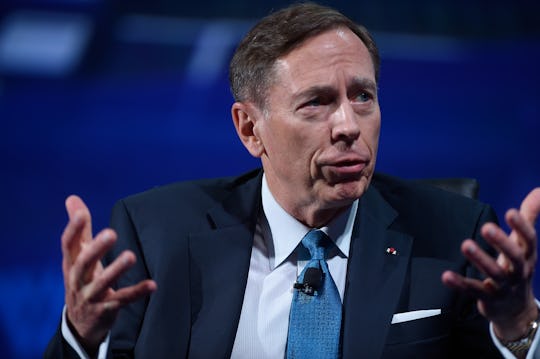 Riccardo Savi/Getty Images Entertainment/Getty Images
David Petraeus' Classified Information Scandal Is Making Headlines Again
In the unofficial but wildly popular new reality TV show, "Who Will Donald Trump Pick For Secretary Of State?" a new contestant has emerged. Reportedly, the president-elect is now considering General David Petraeus for the post. But while the general has a long and impressive resume, David Petraeus also has a classified information scandal in his past that could make his appointment tricky, especially since Trump spent the entirety of his campaign railing against Hillary Clinton for her own mishandling of classified information.
Petraeus was serving as the head of the Central Intelligence Agency under President Barack Obama when news broke in 2012 that he'd reportedly been having an extramarital affair with his biographer, Paula Broadwell. He immediately resigned from his post, and later pleaded guilty to sharing classified information with her. Petraeus gave Broadwell, the author of All In: The Education of David Petraeus, eight black notebooks containing top national security secrets, including code names and war strategies, admitting in a taped interview with her that he knew they contained classified information. Broadwell reviewed the notebooks at a private home that had not been cleared for storing such important national secrets. Furthermore, Petraeus initially lied to the FBI during the investigation about sharing the information.
Representatives for Petraeus at the KKR Global Institute, where he serves as chairman, declined to comment on the reports and criticisms about his rumored selection.
In 2015, Petraeus agreed to a plea deal that gave him two years of probation, and paid a fine of $100,000. Since then, he has been working steadily in the private sector for a number of institutions and global firms.
But now, he may be getting a big promotion as Trump's secretary of state, apparently joining Mitt Romney and Rudy Giuliani in the pool of contenders. It would be a questionable move for Trump, who spent much of the election painting Hillary Clinton's email scandal as a horrific crime, to ignore what Petraeus did. For reference, FBI Director James Comey said that the Petraeus case was worse than the Clinton case, pointing out during a hearing on Capitol Hill that, with Petraeus,
You have obstruction of justice, you have intentional misconduct and a vast quantity of information. He admitted he knew that was the wrong thing to do. That is a perfect illustration of the kind of cases that get prosecuted... In my mind, it illustrates importantly the distinction to this case.
(Trump asserted on the campaign trail that what Petraeus did was "much less" than what Clinton did, but unlike Comey, Trump did not oversee either of the investigations. The Trump transition team did not immediately respond to Romper's request for comment.)
In many ways, Petraeus would likely make an excellent secretary of state. He has a wealth of experience and, at least until the scandal, was widely respected by both Republicans and Democrats. But if Trump is willing to dismiss this scandal entirely after months of encouraging chants of "Lock her up!" it will demonstrate just how much his emphasis on Clinton's emails was a cheap political ploy, lacking any sort of moral conviction.