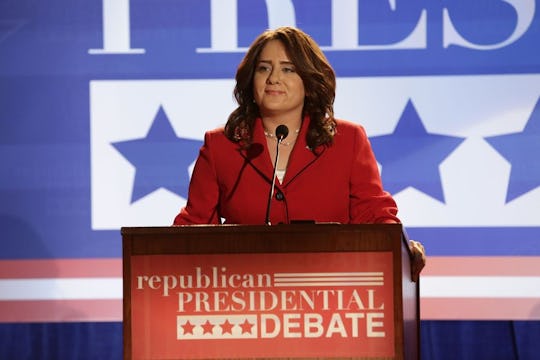 ABC/Nicole Wilder
David Rosen Proposes To Susan Ross On 'Scandal,' & Her Decision Is Surprising
Attorney General David Rosen has been in the doghouse on Scandal recently. For a while he was sleeping with both Vice President/presidential candidate Susan Ross and Elizabeth North, Susan's Chief of Staff. When Susan found out he was cheating – not who he was actually cheating with, mind you – she was devastated, and wanted to end their relationship. Elizabeth advised against it as it would be bad for her campaign, so she begrudgingly continued. On Thursday's episode, "Trump Card," David took it a step further: he proposed to Susan.
After David brought Susan her favorite Gettysburger meal (which, okay, would get us too) and a heartfelt monologue, Susan accepted. This seemed a little strange considering the way Susan's been treating David ever since she found out about his cheating. She despised even being in the same room as him, and was putting up a front for her campaign. All of a sudden, however, she accepts David's marriage proposal. She even asked him to "ask her like a normal person."
Has Susan forgiven David? Of course it seems that way, as she would not accept otherwise. This is complete reversal from Susan's behavior since she found out, but pretty consistent before she knew about what David was doing. When she was oblivious to his cheating, she all but worshipped David. She would light up when she saw him, and she truly enjoyed their relationship.
Perhaps Susan said yes even if she's still angry with him – because she wants their relationship to be what it once was. She decided to hastily forgive him and say yes because she fantasizes about what married life will be like. It almost seems that during his speech, Susan completely forgot that she was furious with him – and forgot that he repeatedly cheated on her.
Fans on Twitter immediately reacted to the proposal. Some were overjoyed:
Others, not so much:
Because this is Scandal, Susan and David's story definitely will not stop here. Susan already knows about his cheating, but she does not know that it was with her Chief of Staff. David might also have an ulterior motive. He knew Susan was angry with him, yet the campaign benefits them both. Perhaps he's using her for another reason. With only one episode left this season, it's unclear that this drama will unfold before the season is over – but we just have to watch to find out.
By the end of Thursday's episode, Susan dumped David for some shady business he did behind her back. While she kept a straight face to her ex, she was clearly hurt by what happened.