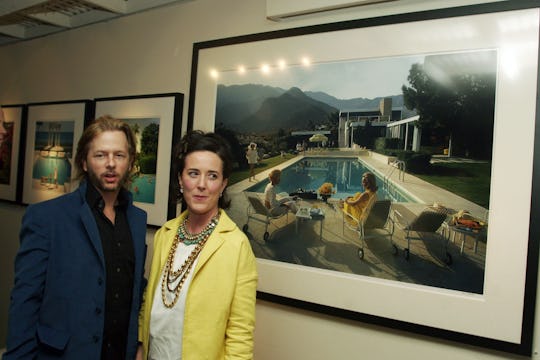 Matthew Simmons/Getty Images Entertainment/Getty Images
David Spade's Tribute To Sister-In-Law Kate Spade Is A Touching Testament To Her Powerful Impact
News of fashion designer Kate Spade's death by apparent suicide Tuesday came as a huge shock to fans of her incredibly popular brand, as well as to the industry at large. But while tributes quickly started pouring in on social media, one particular post, written by Spade's brother-in-law, actor David Spade, stood out. Though her talent and style will no doubt be missed, David Spade's tribute to Kate Spade was a touching dedication to who she was as a person, and it shows just how big of a loss her death is for her family and friends.
Kate Spade married David Spade's brother, Andy Spade, in 1994, according to People, and from the sounds of it, she was definitely beloved by her extended family. Following news of her death, David took to social media Tuesday to share a photo of himself and his sister-in-law from a Christmas family gathering, and wrote, "We had so much fun that day. She was so sharp and quick on her feet. She could make me laugh so hard." The actor then wrote, "I still cant believe it," before adding, "[it's] a rough world out there people, try to hang on."
The sweet post wasn't the only one David shared though: on Twitter, he also posted a photo of a smiling Kate — whom he called "Katy" — attending one of his book signing events, and wrote, "I love this pic of her. So pretty. I don't think everyone knew how f**king funny she was."
NYPD Chief of Detectives Dermot Shea confirmed that the 55-year-old's body was found in her Manhattan apartment Tuesday morning by her housekeeper, according to CNN, and that she'd left a suicide note, reportedly addressed to her 13-year-old daughter, Frances Beatrix. In a statement, Spade's family told the New York Daily News Tuesday that they were "all devastated by today's tragedy," and that they "loved Kate dearly and will miss her terribly."
Spade's death has had a wide-reaching impact, even among those who didn't know the designer personally. On Twitter, her fans opened up their "first Kate Spade bag," many of whom shared the ways in which it symbolized their transition to adulthood:
In other words, Spade's eponymous brand represented way more than just handbags or accessories — and even though the designer and her husband actually sold off their stake in the company in 2006, it's clear that she left a lasting impact. And that impact was a reality readily acknowledged by Kate Spade New York — now owned by Coach — who called her the brand's "visionary founder" in an Instagram post, and praised "the beauty she brought into this world."
In 2017, Spade spoke to NPR about starting her own handbag label, and explained that she'd actually made the decision to leave her career as a fashion editor behind while having dinner with her husband at a Mexican restaurant in 1993. Despite an initial struggle to get the company off the ground, the couple was able to open their first retail store three years later, and in 1999, they sold 56 percent of the brand to Neiman Marcus for $33.6 million, according to CNN.
In 2006, Spade stepped away from her company completely to focus on raising her daughter, and eventually started a new line, Frances Valentine, in honor of her a decade later. But as beloved as her original brand may have been, Spade said she definitely didn't regret leaving: in 2016, she told People,
I needed a break and I really wanted to raise my daughter. People asked me, 'Don't you miss it?' I really didn't. I mean, I loved what I was doing, but I didn't miss it as much as I thought I might.
In fact, as hard as she worked for her professional success, in a 2002 interview with Glamour, Spade said she didn't actually want that to the most important thing she's known for. She told the magazine, "I hope that people remember me not just as a good businesswoman but as a great friend — and a heck of a lot of fun." And judging by her famous brother-in-law's social media tributes, that's exactly the legacy she's left behind to those who knew and loved her.
If you or someone you know are experiencing suicidal thoughts, call 911, or call the National Suicide Prevention Hotline at 1-800-273-8255.