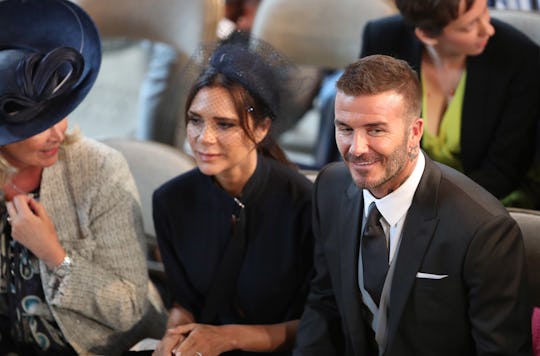 WPA Pool/Getty Images Entertainment/Getty Images
David & Victoria Beckham Respond To Divorce Rumors With This Perfectly Blunt Non-Statement
When it comes to celebrity couples, divorce rumors are as common as alleged cheating scandals. Name one famous duo, and you're sure to find some tabloid — and some unnamed source — reporting that they're "on the outs." Some couples will avoid the gossip entirely, while others will smack them down with some sass. Case in point: This week, David and Victoria Beckham responded to divorce rumors circulating about them with this perfectly blunt non-statement.
A representative for David and Victoria Beckham told Romper via email that the rumors are "absolutely not true" and the couple further addressed the rumors in a perfect statement provided to The Mirror. "There is no statement due or divorce... This is just fake social media news. This is all very bizarre and an embarrassing waste of time," representatives for the Beckhams reportedly told The Mirror on Friday. "There is no statement due, no divorce, and a lot of Chinese whispers and fake social media news."
The recent divorce rumors seemed to have started out of nowhere. Gossip that the power couple were about to split became a trending topic on social media earlier this week, with thousands of Twitter and Facebook users joining the speculative conversation and sharing their own theories, according to The Sun. People had even started placing bets on their allegedly impending divorce, but to the surprise of many, bookies suspended betting Friday on the odds of a split, The Daily Mail reported.
This isn't the first time the Beckhams have had to deal with speculation about their marriage. Just last year, David Beckham slammed rumors that the duo have only continued their marriage for the sake of their multimillion-dollar brand, according to Reuters. The retired soccer pro told BBC radio's Desert Island Discs in January 2017, reported Reuters:
People have talked about "Do we stay together because it's a brand?" Of course not. We stay together because we love each other. We stay together because we have four amazing children.
And there's no reason to doubt that Victoria and David Beckham have a rock solid relationship. The couple, who have been married since 1999 and have four kids together, have always appeared deeply in love, and have never shied away from talking about their relationship publicly. In fact, in a letter to her younger self published in Vogue UK's October 2016 issue, Victoria Beckham wrote that she was a "little drunk" when she met David for the first time, but it was "love at first sight," according to Vanity Fair. She continued:
While the other football players stand at the bar drinking with their mates, you will see David standing aside with his family. (He's not even in the first team at this stage — you are the famous one.) And he has such a cute smile.
She continued in her letter, according to Vanity Fair:
You, too, are close to your family, and you will think how similar he feels to you. He's going to ask for your number. (He still has the London-to-Manchester plane ticket on which you wrote it.)
And this love is still going strong, 17 years later. Around the same time the divorce rumors began ramping up on social media, Victoria posted a Instagram snap of her and their 6-year-old daughter, Harper, with a sweet message to her soccer player husband. The caption read, "Morning cuddles x So much love[.] We love and miss u @davidbeckham."
By all means, there's no indication that Victoria and David Beckham are on the outs. And I would honestly be shocked if months — even years — from now they release a statement that they're divorcing. I know anything is possible, but it's nicer to believe in their love story.