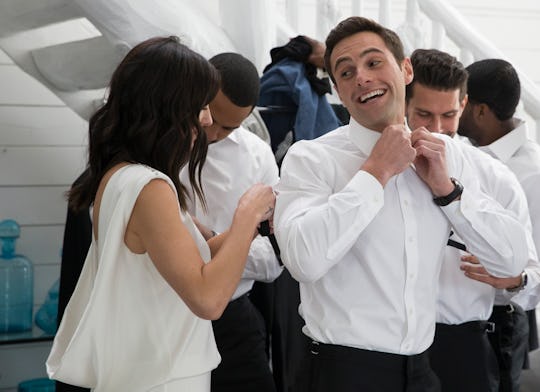 Paul Hebert/ABC
'Bachelorette' Contestant David's Instagram Is Pretty Wild
While many of the contestants on Becca Kufrin's season of The Bachelorette bring a decent amount of mojo to the game, it's the guy who arrived in the chicken suit that stole the show. He has been one of the most lovable guys on the show thus far, and just one look at David's Instagram page proves that the Bachelorette contestant is the same fun, loving guy you see on the show. After his injury last week, fans have been worried about his health, but from the looks of it, he seems to have made a full recovery.
It's been a while since David has posted any photos, and his last post was on May 28, which is when The Bachelorette premiered. He posted a photo from the first night in the mansion, where he won over Becca's heart in that infamous big, yellow chicken costume. While his Instagram page hasn't been updated with any new photos since then, he did post a few pictures after coming back from filming. There is a picture of him enjoying a pool day with his family that was posted on April 29, and in the photo it looks like David has a tiny scar on his nose, which could be a remnant of his injury on the show.
In the trailer for the season, fans got a glimpse of an injured and bloody contestant being carried out on a stretcher, and then removed from the mansion in an ambulance. While some internet rumors alluded to the injured party being David, no one could have guessed how he actually got hurt. In a freak accident, on last week's show, it was revealed that David fell off of his twin-sized bunk bed in the mansion and landed flat on his face. According to Reality Steve, David suffered from a broken nose and a concussion, which could explain that scar on his nose. But Reality Steve also revealed that David was on a two-on-one date with Becca in Las Vegas, so it looks like he recovered quickly enough to go back to filming. What a champ!
If you look back through his older Instagram posts, David comes across as a guy that enjoys spending time with family and friends. For Mother's Day, he posted a picture of himself in a tux standing next to his gorgeous mom, and for his sister's birthday he posted an adorable childhood picture of the two which he captioned:
"Happy birthday to the best sister (more like 2nd mom) a brother could ask for. Can't wait to celebrate the big 3️⃣0️⃣ with you!!"
He also seems to be a bit of an adrenaline junkie. His Instagram page is filled with pics of him doing all kinds of thrilling activities, including pictures of him skydiving, one of him skyboarding, and one of him on safari in Africa. David seems to be an outdoorsy guy, too, because he's posted numerous pictures of himself hiking, camping, snowboarding, golfing, and rafting. There's even an envy worthy picture of him at the 2018 Super Bowl, where he celebrated the Philadelphia Eagle's big win.
It will be exciting to see David return, because he's been a fan favorite from the very beginning. He has a really sweet sentimentality and really seems to care about Becca. After seeing Jordan acting like somewhat of an egomaniac, David called him out, and even warned Becca about Jordan's 4000 Tinder matches. But rather than looking like a snitch, it seemed like David was just being protective of Becca because of his genuine feelings for her.
So between his chicken suit, his freak injury, and his constant butting heads with Jordan, David has really become a frontrunner among fans. The question is whether all that will bring him closer to Becca or not, but you'll just have to keep watching this season to find out. You can catch The Bachelorette on Monday nights at 8 p.m. Eastern time on ABC.