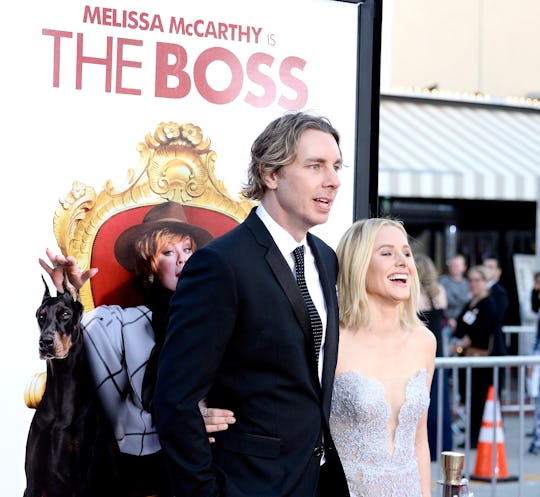 Frazer Harrison/Getty Images Entertainment/Getty Images
Dax Shepard's Daughter Just Learned A Fun New Word
Another day, another instance of Dax Shepard and Kristen Bell being the total and complete epitome of couple goals, and parent goals. Of course, the pair aren't perfect, and, when Shepard was a guest on The Ellen DeGeneres Show, Tuesday, he spilled the beans on one of their funniest blunders. Apparently, Shepard may have taught their 3-year-old daughter, Lincoln, a certain swear word that most toddlers don't generally learn for years. Explaining to DeGeneres that it was not on purpose, the fact remains that Shepard accidentally taught his daughter a four-letter word, and the story behind it is absolutely hilarious.
More importantly, Shepard's story is completely relatable. Speaking to DeGeneres, he told the story of how he hit his nose, nearly breaking it, on Lincoln's bookshelf one day. Understandably, he "let a couple of mother--kers rip" after the fact, and little Lincoln picked that fun phrase right up. (As kids do.)
Shepard added that, a short time later, Lincoln let out her own "oh f--k!" while fighting an intense battle with a shirt that wouldn't come off. Bell and Shepard apparently tried to ignore the slip, hoping that it wold be a one-time occurrence. Unfortunately, kids really do say the darnedest things, and Lincoln wasn't forgetting her new word anytime soon.
Shepard went on to say that Lincoln later repeated the phrase at a pool party, exclaiming, "this pool is f--king warm." According to Shepard, that was the last time she said the word (though, you have to admit, her grammatical structure was pretty on point, especially for a 3-year-old).
In case you forgot and went sleuthing around for a photo of said tiny-unintentional-comedian, Shepard and Bell have implemented a strict, no-kids policy when it comes to the photographs they share — and they aren't allowing their kids to be photographed period, for a very good reason. When Lincoln was first born, Bell explained, "We don't want our daughter's face anywhere ever until she decides because I have the utmost respect for her." As so many celebrities have to deal with paparazzi on a daily basis, the couple's decision is completely fair.
However, just because the couple hasn't shared pictures of their children, doesn't mean they won't readily tell the funniest stories about what they do, as Shepard did this week. That honesty in regards to both parenting and the silly things their kids do is super refreshing.
Whether their kids are dropping the f-bomb, throwing the typical temper tantrum in the middle of the grocery store, or just swimming with their dad, it's obvious that both Lincoln and younger sister Delta, 2, have the coolest parents — and that is pretty f--king awesome.