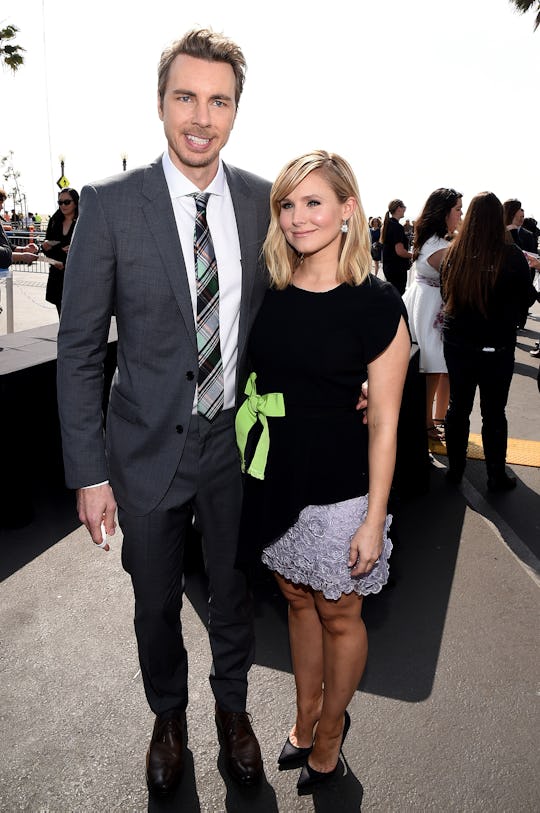 Michael Buckner/Getty Images Entertainment/Getty Images
Dax Shepard & Kristen Bell Have The Most Relatable Morning Parenting Routine
For many, actors Dax Shepard and Kristen Bell have been the epitome of couple goals for years now — and that hasn't stopped now that the famous duo are parents. In fact, judging by a recent interview Shepard shared with Today, it sounds like the couple has learned to bring their awesome ability to work together into their parenting repertoire, too. Shepard and Bell have the best morning parenting routine, and it lets them both balance the work that needs to get done before everyone heads out the front door.
Speaking to Today about the family's morning routine recently, Shepard shared that Bell is usually the first one out of bed. "Neither of us are morning people, but I will say [Bell]'s very, very generous with getting up early because I'm a bit of an insomniac, so I have a hard time going to sleep," Shepard said. "So generally she'll monitor that and make sure I'm getting my appropriate amount of sleep."
That doesn't mean Shepard is off the hook for morning dad duties, however. Shepard's job is then to attend to whichever of his two kids — 3-year-old Delta or 4-year-old Lincoln — begins screaming first. "Whatever time they start screaming, I then get up and go deal with it," he said. "But that averages out to be about 7 o'clock in the morning."
After dealing with shrieks, Shepard moves on to more practical duties. "Then I make them breakfast, then I brush their teeth," Shepard explained. "Then we get ready, and then we go to school."
Really, it sounds like all of the endless "and then"s that define parenthood for most moms and dads apply to this Hollywood power couple as well. And Bell's description of her morning routine makes it clear that she's right in the thick of it along with her husband — screaming included.
"Why don't they tell you that?" Bell said on The Ellen Degeneres Show last year, according to People. She continued:
Like, 'they're going to wake up screaming for, like, four years.' You wake up — the moment you wake up, you're in, like, a horror movie, because everyone in the house is screaming bloody murder.
She also told Well+Good that she tries to have as little interaction with her kids as possible before preparing herself some matcha, so maybe that's the window where Shepard swoops in to take over.
Once they've fed the whole family some oatmeal and gotten the kids dressed and ready to go, Bell has no problem hopping in the car in her pajamas to get her daughters to school on time. "Usually I drop them off to school in my PJs because I generally wear pajamas that can be worn out of the house and I don't have enough time, nor do I care enough, to change into regular street clothes," Bell told Well+Good. The drive is made easier thanks to Bell and Shepard's ban on kids' music, which the couple have replaced with simple Top 40s, instead.
As any parent knows, even just keeping kids alive is hard work — never mind waking up to their screams and trying to keep them on a consistent schedule. Fortunately, it sounds like Shepard and Bell have figured out a way to split their parenting duties in a way that works for them both and still gets their daughters to class on time.
(Of course, the famous couple have another trick up their sleeve: "Drink coffee: Starbucks French Roast, in the 18-ounce cup," Shepard recommended to Today. "Just really get as much down as you can." Solid advice, Shepard.)
Check out Romper's new video series, Romper's Doula Diaries:
Watch full episodes of Romper's Doula Diaries on Facebook Watch.