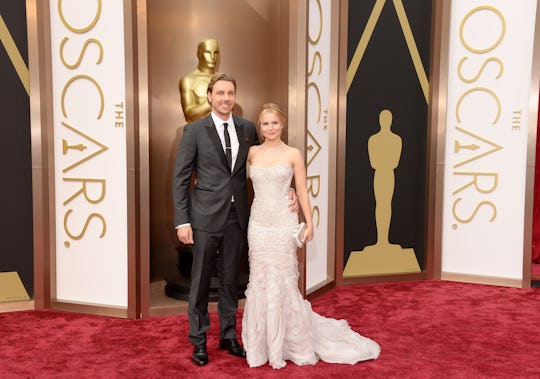 Jason Merritt/Getty Images Entertainment/Getty Images
Dax Shepard Says Therapy Was Key To Marriage Success
When you look at Hollywood power couples like Beyoncé and Jay Z, Dax Shepard and Kristen Bell, and Posh Spice—I mean, Victoria and David Beckham, it can be easy to assume that they're held together by things that are unavailable to us mere mortals, like #TrueLove and oodles of riches. But as Beyoncé (allegedly) proved with Lemonade and Brangelina proved with their heartbreaking divorce, even Hollywood's cutest couples have their own set of troubles. During an interview on Good Morning America recently, Dax Shepard admitted as much; Shepard said he and Bell attended therapy in the early days of the marriage, and added that, in the grand scheme of things, it made all the difference.
"We went to therapy early on to learn what our pattern of arguing was and where we needed to stop that," he told Good Morning America on Wednesday. "Most people wait until the thing is exploding before they see a professional."
Shepard said going early was good for him and Bell — and praised therapists' ability to get to the heart of the problem. "I thought maybe an ounce of prevention this go-around would be advisable," he said. "It's great too because you go to the therapist and he listens to you talk for about 30 seconds and then he's like, 'I got it.'"
Shepard's not the only one who has opened up about the benefits of therapy. Bell has talked about the couple's decision to seek out a little bit of help in the past, as well. "We have a very healthy marriage and we got there by doing therapy when we needed it, and constantly doing fierce moral inventories," she told People recently. "We both take responsibility when we are wrong."
According to Entertainment Tonight, Bell also told Redbook in an interview last year that it took them some time to figure out their communication style, saying:
We fought a lot and I loved a dramatic exit. If I could slam a door, I felt so powerful. If I could get in my car and screech away, it was even better. [Dax] said to me, "If we have an issue, you can't leave. We're going to talk or I'm not going to do this with you." I loved him so much that I was like, "I better get my act together."
So it turns out that even the most happily-ever-after Hollywood relationships take their fair share of work. And Shepard and Bell might be onto something: A bit of professional help never hurt anyone, and it's probably best to strengthen your relationship as much as possible before you run into any serious problems.