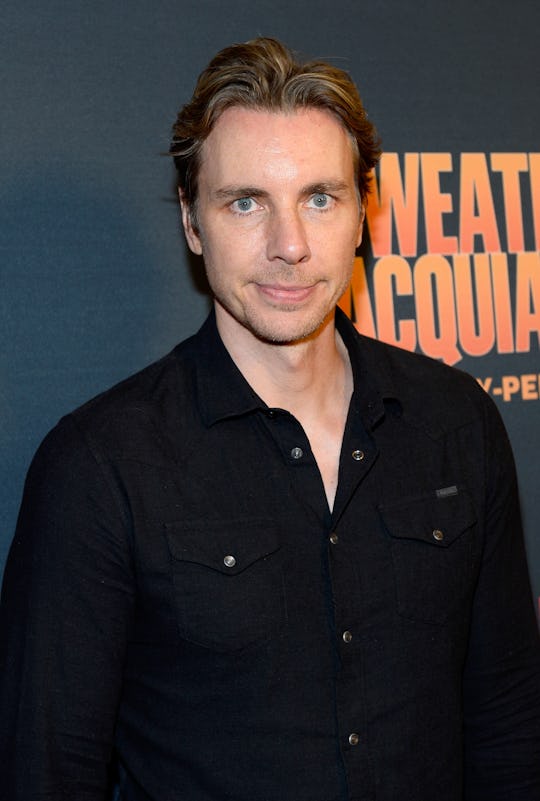 Bryan Steffy/Getty Images Entertainment/Getty Images
Dax Shepard's Message To His Family After 12 Years Sober Is All About Keeping Promises
If you follow them on social media or love watching the commercials the do together, it seems like Kristen Bell and Dax Shepard are the epitome of #RelationshipGoals. But it hasn't always been easy for the couple and Dax Shepard's message to his family after 12 years sober shows that all those "goals" take a lot of hard work. Shepard tweeted, "12 years ago today I came out of my last toxic, life threatening stupor. I now have a wife & babies & some self-esteem #gratitude #promises." Which isn't only sweet, but a really good message that anyone considering sobriety would like to hear — there's good stuff waiting for everyone.
Both Bell and Shepard are open about his struggle with addiction in the past. Bell told People, "Seeing the world through his eyes has really opened mine to knowing that it is a disease and nobody is choosing to drink more than others." She added that addicts "are doing it because of a variety of reasons and they deserve the attention of a mental health professional, and not the county jail or however else we're choosing to pretend we're fixing the problem."
Having that kind of support is key for anyone in recovery.
Because he was in pretty deep when it comes to the party life. He told Playboy in 2012 that he was into pretty much anything. He told them that meant, "drinking, cocaine, opiates, marijuana, diet pills, pain pills, everything," though his two favorites were Jack Daniels and coke. Shepard said he was known for heading out on Thursday for a few drinks and then not coming home until Saturday, just because he was always about keeping the party going.
He said in the same interviews, "I lived for going down the rabbit hole of meeting weird people. Of course, come Monday I would be tallying up all the different situations, and each one was progressively more dangerous. I got lucky in that I didn't go to jail."
Shepard also told Playboy that when he met Bell, she was a little "terrified" of his past, since she had grown up in a very Christian household and had always stuck to the straight and narrow. "She had a hard time believing I would ever be able to stay married and monogamous and a father and all those things. For the first year and a half we were together that was what we battled over almost weekly."
Which is sort of hard to believe when you see the two together goofing around on together on Instagram. It's also why calling out his family and celebrating every weekend not lost to a bunch of drugs and booze is important. It's never easy, but hopefully after 12 years, Bell's started to believe.