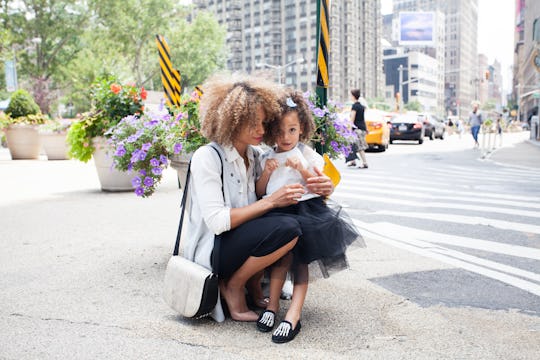 Daycare Teacher's Note To Mom Saying Her Black Daughter's Hair "Stinks" Is Just Wrong
The first day of school is usually an exciting moment for both kids and their parents. For Tionna Norris, a Chicago-area mother of two, and her daughter Amia, the school year has already been fraught with issues. It's not the typical issues you'd associate with school either, such as behavior or comprehension — Amia's daycare teacher sent a note to her mom saying her daughter's hair "stinks." Norris received the note from her daughter's daycare, Raggedy Ann Learning Center in Elmhurst, Illinois, early last week — and was outraged by not only what it had to say about her daughter's hair, but what actions Norris should take to rectify the situation. According to Norris's Facebook post with a photo of the daycare center's note, it said:
Dear Tionna I understand the necessary [sic] of coconut oil on Amia's hair, but please do not use as much. The children were complaining that her hair "stinks". If you have to apply this daily, please do so lightly, so the kid's [sic] don't tease her. Thank you for understanding Sincerely Carol
"Y'all gone feel that black girl magic," Norris wrote in a caption to the photo: "Sincerely, unapologetically black mom. P.s. Coconut oil has no stinky smell." According to the Raggedy Ann Learning Center website, "Carol" is listed as the daycare center's director. The daycare did not immediately return Romper's request for comment, and the daycare's Facebook page has been unpublished following media attention around the incident.
Norris's daughter started school last month, according to her Facebook page. In a Facebook post earlier this month, Norris wrote proudly of her daughter's natural African-American hair and beauty, saying,
I have a beautiful black princess that I'm raising to be a queen. I Love those big brown eyes 😍 her peanut butter skin 😍 her curly strands of hair and the way her skin glows naturally when it hits the light. And she will too!!! She is the roots of this world and everything on it is hers and she will know it!!!!
For those not in the know, curly natural hair — especially black hair — requires a good amount of moisture to protect and nourish the hair, which natural coconut oil can provide. According to LIVESTRONG.com, coconut oil is an essential product for black hair. But, as Norris — and many other people — has noted, coconut oil hardly "stinks," as the note from Amia's daycare alleged.
In a comment further down on her original Facebook post, Norris pointed out that Amia is the only black child in her daycare class. By all appearances, the daycare note reads more like cultural ignorance and racial discrimination — biased pearl-clutching — more than it does any kind of teacher "concern." "Because I am a young parent in the school or the parent of darker skin tone," Norris told CBS 2, "I get the letter that says my daughter stinks."
Norris told her local CBS affiliate that she did have a meeting with the daycare administrator and learned that in fact, none of the other children in Amia's class complained, and that the complaint came solely from the teacher who wrote the note. While the daycare administrator apologized to Norris, no disciplinary action was taken against her daughter's teacher. As such, Norris has pulled her daughter out of the daycare as of Thursday, she said on Facebook. Norris' experience just goes to show one of the many microaggressions and instances of ignorance that people of color face on a daily basis — and it has to change.