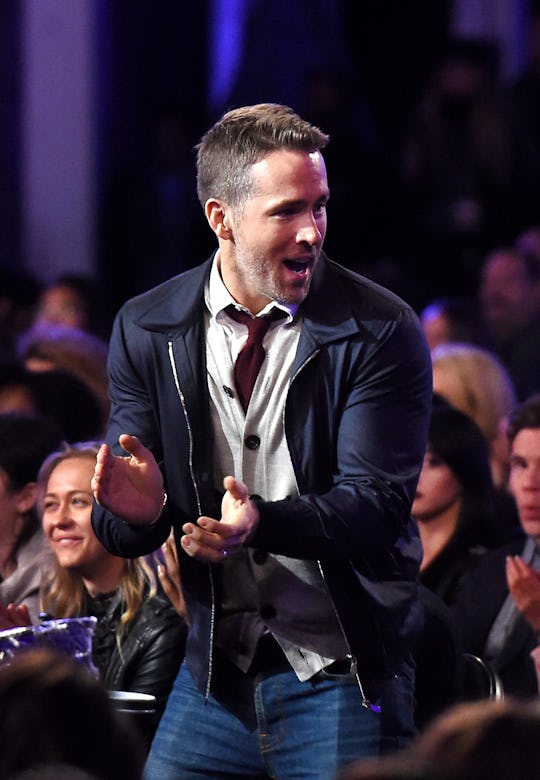 Kevin Winter/Getty Images Entertainment/Getty Images
'Deadpool 2' Is Officially On & Ryan Reynolds Is Having A Really Great Year
It's hard to think of anything that could be more rewarding for an actor than starring in a hugely popular blockbuster that grossed more than $750 million worldwide, smashing records, and then announcing a sequel. It's kind of like starting a family by welcoming a daughter with the beautiful and talented Blake Lively in 2014, and then announcing that your family will soon grow again, with the addition of another baby. But that's exactly how it's going for star of the upcoming Deadpool 2, Ryan Reynolds, who is seemingly having a really great year.
Lively and Reynolds' first child, James, was born in December 2014, and the couple provided very few details about the happy event, opting not to publicly reveal even the baby's exact birthdate until a year later. Conversely, it seemed like the whole world knew (and rejoiced) when Deadpool, the R-rated superhero flick that turned the genre on its head, debuted in theaters Feb. 12 of this year.
Now, it looks like Reynolds is going to get to experience both of those joys all over again. On Thursday, Reynolds fans and Marvel fanatics learned that Deadpool 2 was officially in the works. As if that weren't enough, the couple also dropped the news that Lively is pregnant with baby number two on the same day.
Could there even be any more fantastic news for a family?
There could be, it seems, if the Deadpool sequel is anywhere near as successful as its predecessor. Strong language, extreme violence, and sexual content earned the original film an R-rating, making it considerably more adult-oriented than other spawn of the Marvel universe. But that didn't stop it from raking in $135 million in North American and $260 million worldwide during its opening weekend. Not only that, but it became the first R-rated movie to top $100 million in domestic box office sales over its opening weekend.
The success did not happen overnight, though. It reportedly took Reynolds years to convince studios that an R-rated superhero movie wouldn't flop. He was right, and now Deadpool is 20th Century Fox's biggest opening ever.
It all worked out so well, in fact, that the entire creative team that developed the original blockbuster will return to make a sequel for the "Merc with a Mouth" a reality.
Even if people don't go nuts for the film a second time around (although it's likely they will), Reynolds will still have lots of joy at home, with his growing family to sustain his happiness.
According to IMDb.com, Deadpool 2 will premiere sometime in 2017. No word yet on when the reported Lively-Reynolds baby will premiere.