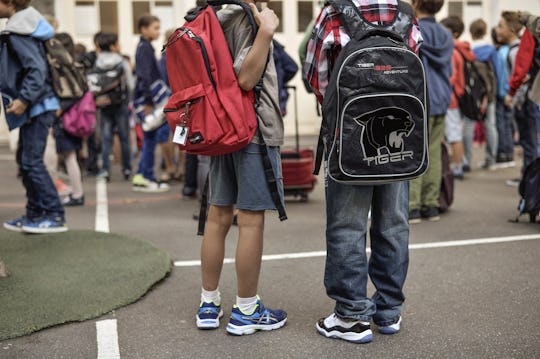 FRED DUFOUR/AFP/Getty Images
Deaf Student Bullied By Classmates Gets A Sweet Surprise, Courtesy Of His Friends
Right at the beginning of a new school year in Omaha, Nebraska, high school bullies stole a deaf classmate's backpack. The incident showcased the worst in teenagers, but the reaction also exemplified the best: The bullied deaf student also got a sweet surprise from friends who refused to tolerate the mean-spirited actions of students who they felt did not represent them. So although 16-year-old Alex Hernandez's backpack ended up in a toilet, a GoFundMe page his well-wishers started has already raised the money to replace his ruined belongings — and showed him that he has many, many more supporters that cowardly tormenters.
Omaha Public Schools released a statement ensuring students and families that this particular instance of bullying of a student with a disability was an "isolated incident," but it's still tough to comprehend: Hernandez told local news station KMTV that the backpack, which went missing during a lunch period last week, contained his tablet, school supplies, debit card, a battery for the cochlear implant that allows him to hear, and an English project he'd worked hard on and had not yet turned in. It all turned up stuffed into a school toilet — and the incident has left Hernandez apprehensive about going back to school.
"This just got out of hand,"he said, according to KMTV. "There's too much bullying, too much drama, too much fighting; it's just not nice,"
The two male Burke High School students who did this were eventually identified via surveillance video and sanctioned, the district revealed in a statement Tuesday. But, happily, their nastiness is not even the focus of the story, because kind acts overshadowed them. In four days, 30 people raised $830 of an $800 goal on a GoFundMe page set up for Hernandez.
"I wanted to thank all of my friends and those who wrote me for supporting me," Hernandez told KMTV. "I am very happy. It made me feel like I am not alone."
Still, Hernandez, who has endured some form of bullying for much of his life, now reportedly wants to transfer out of the high school where he is currently a senior. And although the school told the teenager's mother that at least one of the alleged bullies has been suspended, she still plans to file a police report against both of them. No matter what happens, though, Hernandez and his family can take comfort in knowing that they always have some love and support at Burke High School, and that the public is definitely on their side.