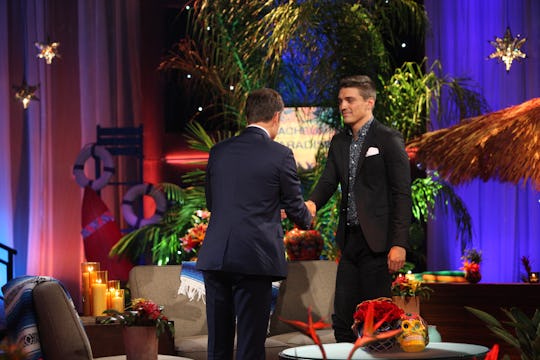 Paul Hebert/ABC
Dean Wasn't Well Received With Fans During The 'Paradise' Finale
Poor Dean. He spent his time in Paradise going back and forth between Kristina and Danielle L. because he couldn't make a decision. Then, when he did choose one (Danielle), he regretted his decision. He played two women and then couldn't handle the consequences. How sad. Oh wait... no. Not poor Dean. He's acted pretty terrible this entire season of Paradise. The once fan-favorite got the villain treatment on the show, and its ripple effects are showing now that he's back in the real world. Dean got booed on the Bachelor in Paradise finale, proving how far he's fallen in the eyes of his fans.
How did Dean get here? He was beloved just a couple months ago off the heels of The Bachelorette, and actually a contender for the next Bachelor. Well, he really messed that all up in Paradise when he became the center of a love triangle with Danielle and Kristina. For episodes, he couldn't decide between the two. It became so hurtful for Kristina that she called what Dean was doing "worse than the orphanage" in Russia. Soon, he picked Danielle over her, and told Kristina that he would not accept a rose from her at the upcoming ceremony.
Once again, Dean flip-flopped: he said he regretted breaking up with Kristina. He told Danielle that he couldn't be with her post-Paradise. Naturally, these flip-flopping tendencies did not make Dean popular among fans. Bachelor Nation has been going in on social media, and he got it in person during the Paradise finale: he was booed every chance the audience got. Looking at the comments on just one of Dean's photos on Instagram, this is to be expected. Fans are mad as hell and not taking it anymore.
After The Bachelorette ended, many viewers thought he may very well be the next Bachelor. Everyone knows that he is most certainly not the Bachelor, and he himself has admitted that one reason is because of his behavior on Paradise. On the finale, Dean apologized for his actions during the show; after hearing from Danielle and Kristina, though, it seems that his flip-flopping continued after the show ended as well. So, did Dean really learn his lesson? I suppose there needs to be more distance between Dean and Paradise. For now, though, he's going to need to make it up to the two women in order to be back in good graces with fans.