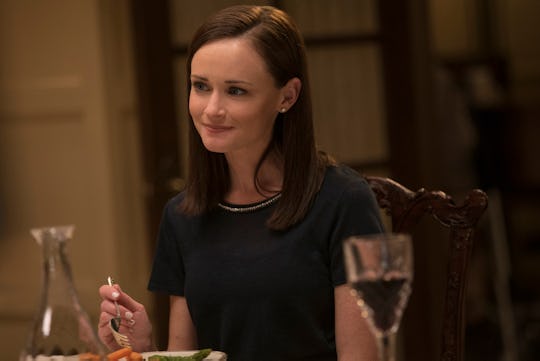 Saeed Adyani/Netflix
Dean's 'Gilmore Girls' Revival Scene Perfectly Summed Up A First Love Relationship
(Warning: This post contains spoilers from Gilmore Girls: A Year in the Life.) In the fourth episode of the Gilmore Girls revival, we finally got to see Dean, the third and final of Rory's boyfriends. They ran into each other at the market, because of course they do, and Dean's Gilmore Girls revival scene perfectly summed up a first love relationship. The market, after all was where their love story began, so it was nice that it came full circle.
Dean, by the way, looks better than ever. He's apparently a father now, living in Scranton, and he's got three kids, with one more on the way. The friendly catch up in the market was the perfect bookend to their relationship, and was a perfect summation to a first love. They met accidentally, and talked about everything going on in their lives. Cute little Clara, Dean's sister, is now living in Germany with a guy who calls her "Ra" who Dean absolutely hates. "Well, she's young. It's her first love. It'll probably..." Rory began before trailing off. Aww... first loves. Yes, they do pass, but they're important. Rory told Dean about writing her book about her life with her mother.
When she asked him if she could include him in the book, Dean seemed a little wary at first. "What are you gonna say?" he asked. And Rory told him that she would write about what he was to her, in a quick recap of their young love:
That you were the greatest boyfriend alive. That you were generous, and protective, and kind and strong. That as much as I wish that we'd met when I was older and more mature, if I hadn't had you with me when I did that I wouldn't be the person I am today. That you taught me what safe feels like.
With a review like that, how could you possibly deny getting a shout out in Rory Gilmore's first book? The little meeting ended with Rory picking up a box of corn starch. "Pay for it this time," Dean advised. No one really gets closure in life, but this is about as close as it gets.
While Dean is probably the least popular of all of Rory's guys, there was a time in Season 1 when he was everything anyone could want in a boyfriend. This was a nice little reminder of that, and a reminder that first loves are important. And even when they end, they still mean something years later.