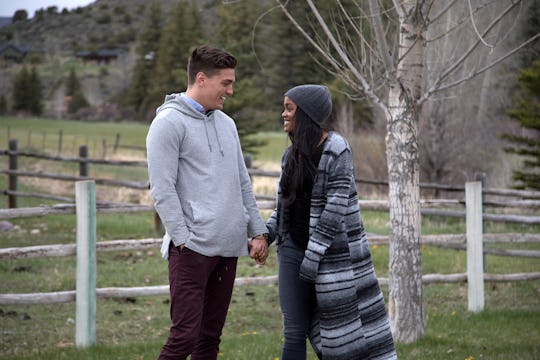 Josh Vertucci/ABC
Dean's Goodbye To Rachel Proves He's 'Bachelor' Material
It's getting closer to the finale on The Bachelorette, which means a couple things: Rachel is getting ready to choose the person she wants to marry, and ABC is getting ready to choose their next Bachelor. Typically, a man who lost the previous Bachelorette season is chosen (Nick was an exception to the rule). Now that Rachel's down to the final few, possible Bachelors are becoming more and more clear. She let Dean go on Monday night's episode, but that may not be the last Bachelor Nation sees of him. Dean's goodbye to Rachel on The Bachelorette proves he's Bachelor material.
Dean had arguably the most emotional hometown date of the bunch. He reunited with his father, whom he hadn't seem in a long time. Not only that, but he was also reunited with some of his siblings; they all have not been together for years according to him. Dean and his father, Parumrup, had an emotional conversation about their dynamic after Dean's mother died back when he was a teenager. Needless to say, it didn't go very well, and Parumrup wasn't in the mood to talk to Rachel afterwards either. Dean's hometown date clearly took a toll on him, but he did express that he was falling in love for Rachel. Not only that, but Rachel told him the same thing. Longtime viewers know that reciprocation isn't common, at least not at this point in the competition.
During the rose ceremony, though, Dean (and Bachelor Nation) were shocked when Rachel sent him home. She chose Bryan, Peter, and Eric over him. He was (of course) upset, and in the car ride afterwards expressed his disbelief. He said he thought he found the person for him, but it wasn't reciprocated. Out of all the guys let go over the course of the season, Dean seemed the most heartbroken.
Given this surprise elimination, though, it seems that Dean would make a good choice for Bachelor. He was blind sighted after being told Rachel was falling in love with him, so that could definitely impact his relationships moving forward. Producers may want to give Dean another chance at love — on television, that is. He seemed ready to be engaged to Rachel at the end of the show (he even mentioned it on his date) so he's open to the unconventional Bachelor Nation marriage conventions to boot. It's still uncertain, but Dean is certainly a contender to become the next Bachelor.