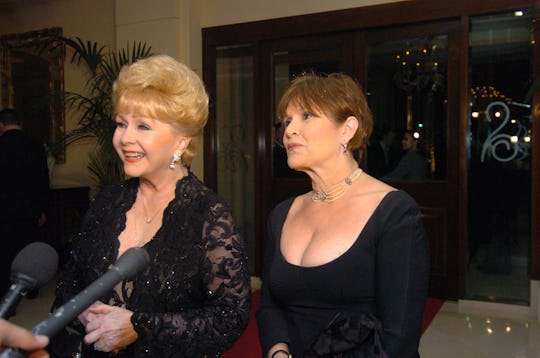 Handout/Getty Images Entertainment/Getty Images
Debbie Reynolds' Last Tweet Will Crush You
On Wednesday night, news broke that Carrie Fisher's mother — equally talented and famous actress — Debbie Reynolds suffered from a stroke and was rushed to the hospital. Later in the night, it was revealed that Debbie Reynolds died at 84 years old. The actor had such an impact on Hollywood, but what might shadow her talent currently is the fact that she passed only a day after her daughter, who was 60. Debbie Reynolds' last tweet proves just how heartbreaking this loss is, since it was about her daughter, and even more heartbreaking, about her daughter doing better after her initial cardiac arrest report.
Fans of Carrie Fisher were shocked to hear that the Star Wars actress suffered a massive heart attack on a flight from London to Los Angeles. The news broke days later, on Tuesday, that Fisher died. According to TMZ, Reynolds was making plans for Fisher's funeral with Fisher's brother Todd while the report broke of a possible stroke. Todd Fisher later confirmed that the Singin' in the Rain star passed later Wednesday evening.
For those that were fans of the family, the final tweet Reynolds sent out to her fans will feel like an extra ping in the heart. As seen below, the tweet offers an update, given on Christmas Day, for Carrie Fisher. It reads, "Carrie is in stable condition. If there isa change, we will share it. For all her fans & friends. I thank you for your prayers & good wishes."
This positive tweet hurts even more knowing the outcome of Fisher's health. Knowing that not only did Carrie's health take a turn for the worse, but that Reynolds, who seemed relatively optimistic in the tweet, died only a day later after her daughter. It is truly heartbreaking.
According to TMZ, Reynolds final words were just as heartbreaking. The news outlet reports that some of Reynolds final words were, "I miss her so much, I want to be with Carrie." Clearly, the bond between mother and daughter was so great, it's hard to distinguish whether this was a coincidence, or grief.