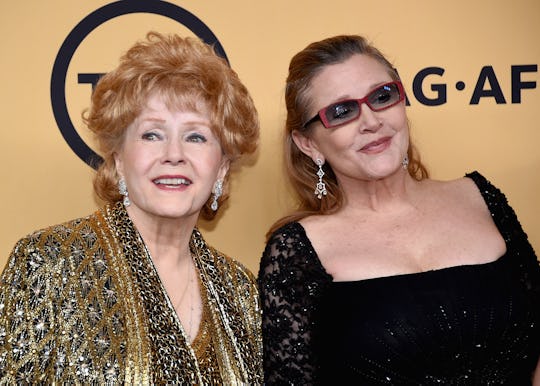 Ethan Miller/Getty Images Entertainment/Getty Images
Debbie Reynolds Honest Quotes About Carrie Fisher
It is tragic to know that Debbie Reynolds' reported last words were about her daughter, actress Carrie Fisher who died just one day before her mother. According to TMZ, Reynolds' last words were "I miss her so much. I want to be with Carrie." Based on their relationship, this makes so much sense. Reynolds had always been vocal about her relationship with her daughter — and in the past, Debbie Reynolds quotes about Carrie Fisher showed that they had an unbreakable bond, even during the rough times.
Carrie Fisher was Reynolds' first born child with husband and singer Eddie Fisher. Due to her parents' high profile relationship, Carrie grew up in the spotlight — it was this spotlight that caused Carrie and Reynolds to have a "complicated relationship." According to Entertainment Tonight their relationship was complicated by mental health struggles, public scrutiny, and other things that "tried to rip apart their bond." But at the end of the day, their bond prevailed through it all. Fisher had always admired her mother, telling Oprah in 2011, "I believe my mother knows now but if she doesn't, it would be good if she did: that I take her advice, that I follow her example, that I respect who she is...and if I'm like her in any way then I'm happy that I am."
Reynolds shared the same admiration for her daughter — which could not be more clear in words she has said about Carrie.
On Her Description Of Carrie
When Reynolds got her star on the Hollywood Walk of Fame in 1997, Reynolds not only talked about herself but her daughter, saying, according to Entertainment Tonight:
I'm especially proud of my daughter Carrie [who] came and said such funny words. She's a brilliant, young, wonderful, talented, woman but she's mainly my precious baby. I love her very much.
On Their Struggles
In 2011, Reynolds and Carrie sat down together with Oprah to give a glimpse into their very real relationship. During the interview, they opened up about their bond and the struggles they had — even telling Oprah that they didn't speak to one another for 10 years. However, the interview proved that despite the tears and hardships, their relationship would always survive, according to US Weekly:
There have been times when I thought I was going to lose Carrie. I've had to walk through a lot of my tears but she's worth it.
On Their Honesty
During a joint interview with the New York Times in 2010, Reynolds revealed one of the sources of friction between the mother and daughter was their knack for telling the brutal and honest truth with one another:
I think we've always been open and honest — that's why we didn't get along. As a parent you must give your opinion. And if that causes a breach, then it causes a breach. Carrie and I have disagreements and stalemates, but we still walk away loving each other.
On Her Admiration For Carrie
Reynolds had a lot to say about her daughter during the Oprah interview. According to Vanity Fair:
I admire her strength and survival. I admire that she's alive. She has chosen to make it. It would have been easy to give up and give in, to keep doing drugs. I feel that as a mother, I will protect her. Who will do that when I'm gone?
On Her Love For Carrie
Throughout her life, Carrie was honest about her struggles with bipolar disorder. Reynolds was there alongside her to support her through her hard times and was honest in 2011 about the illness and its effect on their relationship, according to The Guardian:
My lowest point in Carrie's and my relationship was when we discovered that she was ill, that she had this mental health problem, and that it was going to be with her forever. That was very hard. How was she going to get along in life? How could I help her life? All I could do was love her, and always shall.
On Carrie's Fame
Reynolds, who had a decades long acting career that spanned generations could not deny Carrie's popularity after starring in Star Wars as Princess Leia, according to Variety:
People used to call her "Debbie Reynold's daughter," now they call me "Princess Leia's mother!"
On Supporting Carrie
Despite the friction they may have had, Reynolds revealed in her 2013 memoir, Unsinkable: A Memoir that she would always support her daughter, no matter what she went through, according to The Independent:
Carrie is my child, and I love her with every ounce of strength I possess. If love alone could cure our children, they would always be well. Since I can't, I will do whatever it is to make her life less difficult.
On Her Hopes For Carrie's Future
No matter what the mother and daughter went through, Reynolds had one wish for Carrie:
I want happiness for my daughter. I want Carrie to be happy.
There is no denying that Fisher was happy, despite the hardships she may have faced in her lifetime. Her relationship with her mother shows that the happiness prevailed through it all.