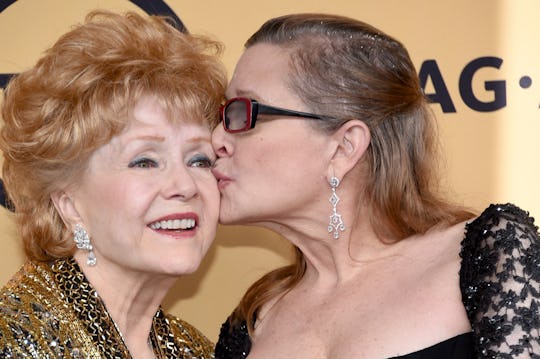 Ethan Miller/Getty Images Entertainment/Getty Images
This Is The Most Tragic Carrie Fisher Reaction
Star Wars fans were delivered a devastating holiday blow Tuesday when news came that Carrie Fisher had died at just 60 years old. Just days before, Fisher was checked into the hospital after suffering a major heart attack on an airplane, and despite promising updates regarding her health, a spokesperson for her family confirmed that she had passed away. But, more distressing than losing Princess Leia, particularly to all parents, is the idea of having to lose your son or daughter. Which is why Debbie Reynolds' reaction to Carrie Fisher's death is all the more heartbreaking. Update: Debbie Reynolds has released a statement on her Facebook page. Her message is below:
Thank you to everyone who has embraced the gifts and talents of my beloved and amazing daughter. I am grateful for your thoughts and prayers that are now guiding her to her next stop. Love Carries Mother
As noted, the outpour of love for Fisher has been undeniable after the news was released regarding her death. Reynolds highlights what fans have noted since Fisher's passing; Fisher really offered an amazing amount of gifts and talents to the world. Whether she was entertaining fans with her acting, adding a political voice in a nation divided, or speaking out to end the stigma surrounding mental illness, Fisher's impact on the world was great.
Earlier: As of press time, Reynolds had not yet responded to Fisher's passing, but she had given her Twitter followers an update on Fisher's health on Christmas. "Carrie is in stable condition. If there is a change, we will share it. For all her fans & friends. I thank you for your prayers & good wishes." And Reynolds' update was in the spirit of her relationship with Fisher — the mother and daughter pair had always been very public about one another and their relationship, speaking to Oprah, ABC News, and more with an honesty that made every woman feel more at ease about their dealings with their own daughter. (Fisher even penned a semi-autobiographical novel, Postcards From The Edge, that touched on her relationship with her mother.)
But, even up to Fisher's death, Reynolds and her daughter remained close — they both appeared in an HBO documentary, Bright Lights, that premiered at Cannes Film Festival earlier this year. And, in it, Fisher explained just how close, physically and emotionally, they are: "Mother and I live next door to each other, separated by one daunting hill ... I usually come to her. I always come to her."
The close bond between mother and daughter? That's one source no force can possibly reckon with.