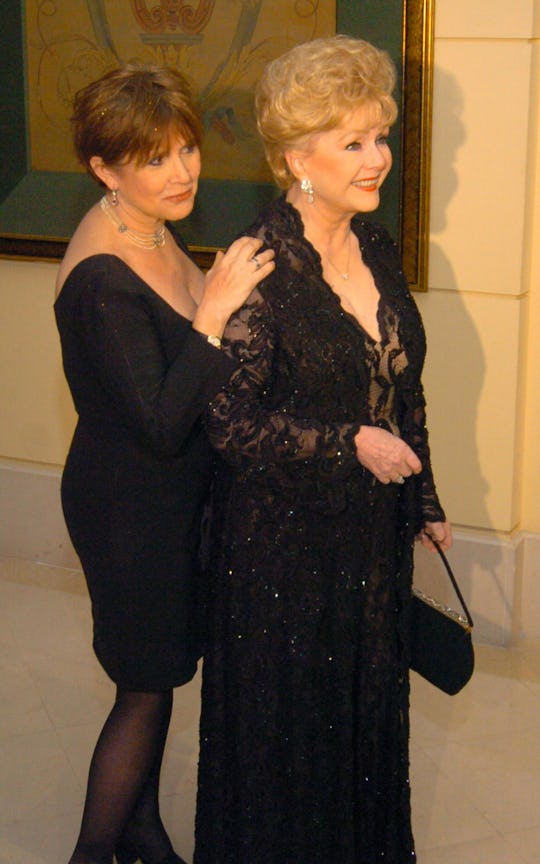 Handout/Getty Images Entertainment/Getty Images
Debbie Reynolds' Reported Final Words Are So Sad
Debbie Reynolds, who became famous for Singin' in the Rain, reportedly died on Thursday after suffering a stroke, according to TMZ. She died just one day after her daughter, actress, screenwriter, and author, Carrie Fisher, died after suffering a massive heart attack. As if the news couldn't get any more heartbreaking, TMZ reported that Debbie Reynolds last words were "I miss her so much, I want to be with Carrie." Family also reportedly told TMZ that Reynolds had suffered several strokes in the last year; they believed that the grief of Fisher's death may have been too much for her to bear.
Though their relationship was at times rocky, Fisher and Reynolds were also reportedly very close. Fisher's book, Postcards from the Edge, which was later adapted into a movie, focused heavily on their relationship, according to TMZ.
According to Variety, Reynolds was one of MGM's principal stars in the '50s and '60s. She was most well known for Singin' in the Rain and The Unsinkable Molly Brown. And, because her mother was building her career as an actor, Fisher said on The Oprah Winfrey Show that growing up in Hollywood made her childhood a bit difficult, according to People:
The family is organized [around] the parents, [whereas] normally the family is organized around raising the child.
Fisher's father, Eddie Fisher, reportedly left Reynolds for Elizabeth Taylor, according to Vanity Fair. And, because she raised her children by herself, Reynolds admitted that her kids were always closely involved with show business as they were growing up simply because she was trying to work. She told People once that Fisher's and Todd's "birthday parties were always on MGM's back lot … We were always playing there."
Because Fisher grew up so close to Los Angeles, People reported that she began drinking and doing drugs at an early age. As Fisher grew older, her mother said her drug abuse got worse. In a joint interview they did on The Oprah Winfrey Show, Reynolds said "There have been a few times when I thought I was going to lose Carrie. I've had to walk through a lot of my tears. but she's worth it." Fisher said there was a period for nearly 10 years where they barely spoke to one another, and Reynolds said it was incredibly difficult, according to People:
It's very hard when your child doesn't want to talk to you and you want to talk to them, and you want to touch them, you want to hold them. It was a total estrangement. She didn't talk to me for probably 10 years. So that was the most difficult time of all. Very painful, very heartbreaking.
But the two mended their relationship and became incredibly close toward the end of each of their lives. Just last year, they worked on a documentary about their lives titled Bright Lights: Starring Carrie Fisher and Debbie Reynolds, according to Vanity Fair. Fisher reportedly wanted to do the film because her mother hadn't been as healthy over the past few years.
Fisher recently told NPR that Reynolds allowed her to make it through her tough life battles. She described her mother and the life she's worked her butt off to accomplish:
She's an immensely powerful woman, and I just admire my mother very much. She also annoys me sometimes when she's mad at the nurses, but she's an extraordinary woman. Extraordinary. There's very few women from her generation who worked like that, who just kept a career going all her life, and raised children, and had horrible relationships, and lost all her money, and got it back again.
The two actors and powerful women will be missed, and the legacies they left behind won't be forgotten.