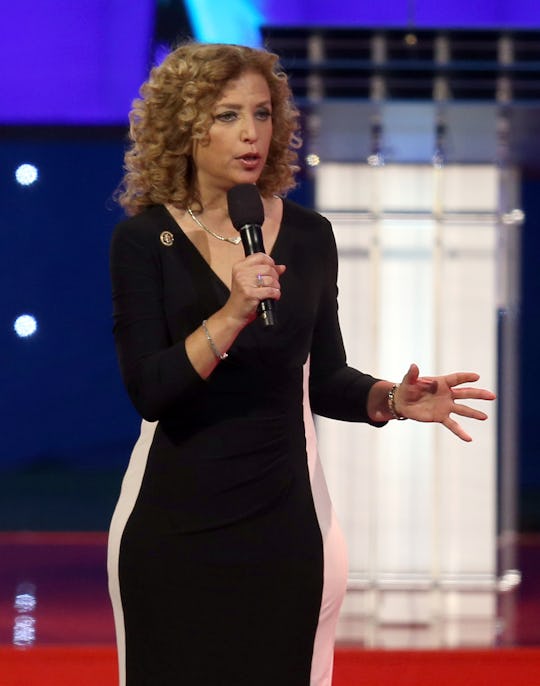 Joe Raedle/Getty Images News/Getty Images
Debbie Wasserman Schultz Steps Down As DNC Chair
The Democratic National Convention chair, Debbie Wasserman, said Sunday she will be stepping down once this year's convention ends, according to the Associated Press. The announcement came after leaked emails showed top DNC officials seemingly strategizing about how to harm Vermont Sen. Bernie Sanders' rising political campaign during the primaries. According to ABC, Wasserman's role throughout the convention will also be far more limited than initially planned.
In a statement, Wasserman said she was committed to seeing a Clinton presidency. "Going forward, the best way for me to accomplish those goals is to step down as Party Chair at the end of this convention," she said, according to CNN. "As Party Chair, this week I will open and close the Convention and I will address our delegates about the stakes involved in this election not only for Democrats, but for all Americans."
On Friday, over 20,000 leaked emails were published on Wikileaks after they were stolen from the DNC's servers. One email, written by DNC chief financial officer Brad Marshall, allegedly debated how to spotlight an unnamed person's beliefs in Kentucky and West Virginia: "For [Kentucky] and [West Virginia] can we get someone to ask his belief. Does he believe in a God. He had skated on saying he has a Jewish heritage. I think I read he is an atheist. This could make several points difference with my peeps. My Southern Baptist peeps would draw a big difference between a Jew and an atheist."
Marshall told The Intercept that the email was not about Sanders — but the public has interpreted the email as proof that the DNC favored Clinton's campaign. Another email, written by an attorney for Clinton's campaign, advised the DNC to "push back DIRECTLY at Sanders" during a Clinton-Sanders dispute regarding state party fundraisers. After the DNC received criticism for a server glitch that temporarily gave Sanders' campaign access to Clinton voter data, DNC Deputy Communications Director Mark Paustenbach reportedly asked: "Wondering if there's a good Bernie narrative for a story, which is that Bernie never ever had his act together, that his campaign was a mess."
After the emails came to light, Sanders told ABC that he was disappointed by the emails, but not shocked.
I told you long time ago that the DNC was not running a fair operation, that they were supporting Secretary Clinton. ... I think she should resign, period.
According to The Guardian, Clinton's campaign manager, Robby Mook, said Sunday:
Experts are telling us that Russian state actors broke into the DNC, stole these emails, [and are] releasing these emails for the purpose of helping Donald Trump. ... I don't think it's coincidental that these emails are being released on the eve of our convention here.
Paul Manafort, Trump's campaign chairman, quickly dismissed accusations of Trump's campaign being linked to Russia. "It's absurd," he told ABC. "It's pure obfuscation on the part of the Clinton campaign. "What they don't want to talk about is what's in those emails. What's in those email show it was a clearly rigged system. Bernie Sanders never had a chance."
Despite the controversy, Sanders has remained focused on creating change where he can. "What we have got to focus on as Democrats is defeating perhaps the worst Republican candidate that I have seen in my lifetime," he told NBC on Sunday. Regardless of the RNC email leak, he still believes the best way to defeat Trump is to vote for Clinton — and he's urging voters to do just that.