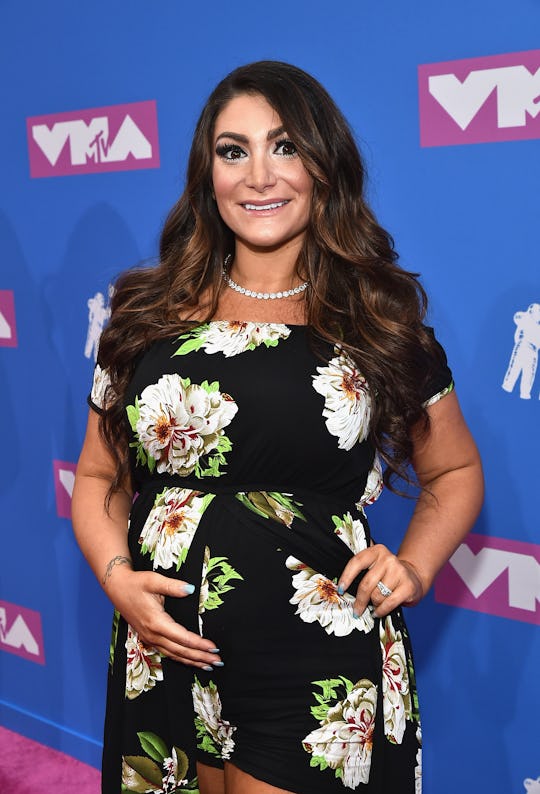 Mike Coppola/Getty Images Entertainment/Getty Images
Deena Cortese's Dog Cali Is Already Bonding With Her New Little Brother
Every dog owner knows that, over time, a beloved pet becomes a member of the family. You love them just like the rest of your kids and, judging by the amount of dog selfies in your phone right now, chances are they also take up a big place in your Instagram feed. Celebrities, too, are notorious for capturing their fur baby's best moments. And Deena Cortese just shared the cutest video of her dog "giving her little brother kisses."
The video shows Cortese's dog named Cali, who is gently licking her owner's pregnant belly over and over again. Awww!
She said: "Cali giving her little brother kisses 💙 idk if she just decided to lick my belly because she was bored lol or if she sensed the baby inside .. but still thought it was adorable 🤗 I mean they do say animals sense when your pregnant 👶🏻🐶 #furbaby #babyboy"
So far the video has about 30k views and other fur moms are commenting about the unbreakable bond between pet and human.
"My yorkie cuddled my stomach to the extreme the night before my water broke," someone commented.
"My sister in law is pregnant and her dog does the same thing. They kiss the baby😍❤️," another wrote.
"When I was pregnant with my first daughter, my dog used to cuddle up against me and sleep with his head on my stomach. I absolutely think they do sense babies in there," someone else said.
This mama-to-be has come a long way from her reality TV roots. Now, she's nesting in preparation for the birth of her first baby with husband Christopher Buckner, according to People.
She announced her pregnancy on Instagram in July with a post that read:
"Chris and I Decided to wait until we were ready to spill the beans! 💙Now that we are safely into our second trimester.. us and our little monkey are ready to tell the world Our little family is growing !" she wrote alongside a photo gallery featuring the couple holding up a onesie that reads, "Coming Soon Baby Buckner December 2018."
But don't worry, Cali was not left out of the photo shoot. She's prominently featured along side a sign that reads, "It's official, I'm getting a new best friend. Guard dog duty begins December 2018."
While most people think this post is the most adorable thing ever, there are a handful of who think it's kind of gross because, well, dog slobber.
The jury is still out on whether a dog's mouth is cleaner than a humans, but they have slightly fewer bacteria than humans and can't transmit their illness to their owners, according to the American Kennel Club (AKC).
And Cortese might be on to something with her love of Yorkies. This breed is always in the top ten of most popular dogs in the U.S. It's also ranked as one of the best companion dogs among the terrier breed, according to the AKC. The only downside for a household with a newborn — these little guys have a ton of energy and require lots of attention, the AKC also stated.
So who's going to get the most social media time — Cali or baby boy Cortese? Really, it's a toss up. Bets are on super cute baby and puppy pics that will have fans oohing and ahhing because really, is there any better combination that that?