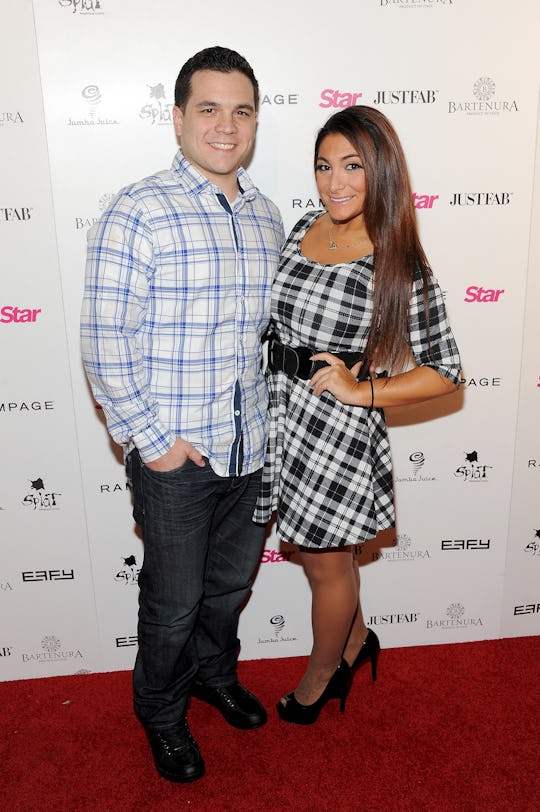 Angela Weiss/Getty Images Entertainment/Getty Images
Deena Nicole Cortese's Husband Had The *Best* Reaction To Their Baby's Sex Reveal
Love 'em or hate 'em, the sex reveal trend doesn't seem to be going anywhere, anytime soon. That's because the new-ish tradition of finding creative ways to reveal the sex of your unborn child to friends and family all at once has only continued in its popularity during the past decade or so. Some couples release balloons in either blue or pink, cut into a cake with blue or pink insides, pop balloons filled with blue or pink confetti, ignite explosions of blue or pink smoke — you name it. The possibilities are endless. And celebrities have definitely gotten in on the action. In fact, Deena Nicole Cortese and Chris Bucker's sex reveal for their first child is a must-see.
On Tuesday, the former Jersey Shore star took to Instagram to share some pretty exciting news: she and her husband are expecting their first child together! Cortese posted a photo of she and Buckner standing next to a sign that read, "We're so excited to say a little firecracker is on the way! Baby Buckner. December, 2018," Us Weekly reported. The mom-to-be captioned her Instagram post with, "Chris and I Decided to wait until we were ready to spill the beans! Now that we are safely into our second trimester.. us and our little monkey are ready to tell the world Our little family is growing!" She continued:
We have a sweet little boy on the way! We Are truly blessed and our hearts are filled with so much joy and happiness. December can't come soon enough! Daddy and Mommy can't wait to meet you Christopher John you are going to be the most spoiled little boy ever!!!!
The excitement from followers and well-wishes were basically instantaneous after Cortese spilled her baby news. One Instagram follower commented, "Aww congratulations!! Your husbands reaction is awesome and just goes to show how great of a dad he will be!"
Another person wrote, "Deena!!! I'm so excited for you! May the blessings keep coming! Boys are so much fun!"
Still other fans caught on to the nods to both the dad-to-be, Chris, and to Cortese's late father, John, in their baby name selection. (As OK! Magazine reported, Cortese's father died in 2016, after a long health battle.) One follower commented, "Congratulations hope everything is well so sweet u are naming ur little baby boy after ur dad."
About nine hours after the double-whammy pregnancy announcement and sex reveal, Cortese shared a glimpse into when they discovered their first child would be a boy, ET Online reported. "The moment we found out we were having a son," she captioned the post, which included a video and a few still shots. "Chris' reaction was everything!!!! Ugh I love you @cbuckner_ I can't wait to meet our son!" In the video, the parents-to-be stood back as a friend lit some sort of smoke bomb-type thing. As they excitedly waited together, blue smoke began pouring out from the bag — and Buckner in particular proceeded to freak out in celebration.
Back in March, Cortese revealed she and her husband hoped to start a family together — and soon, Us Weekly reported. "Yes! Baby fever totally," the reality star told the publication at the time. "We plan on starting to try. We're trying! I'm very excited ... He wants to have three. I would be fine with two, but the more the merrier, right?" Based on the timing of this question, I'd be willing to guess that she and Buckner found out they were expecting just a few weeks later. (Based on my own timeline of expecting a late December/early January baby.) As People reported, Cortese and Buckner tied the knot in October, 2017. So it doesn't appear as if it took too long for their hopes of pregnancy to become a reality.
Clearly, Cortese and Buckner are over the moon about welcoming a baby boy to their family this December. I wish the parents-to-be the best of luck as they embark on this next phase of their lives. Because as they say, "A baby changes everything." And from personal experience, "they" are 100-percent correct.