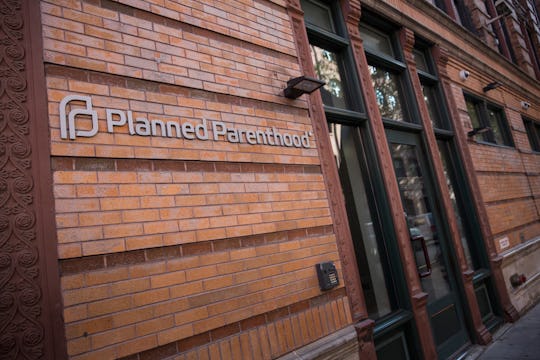 Andrew Burton/Getty Images News/Getty Images
The Pros & Cons Of Defunding Planned Parenthood
Defunding Planned Parenthood is back in the news again. House Speaker Paul Ryan said Thursday that Planned Parenthood could lose federal funding as early as next month, in a bill that could be passed as part of an effort by Republicans in Congress to undo the Affordable Care Act. The debate over the pros and cons of defunding planned parenthood is ongoing, but the federal government is about to get involved in a big way.
According to the Washington Post, "Planned Parenthood legislation would be in our reconciliation bill," Ryan said, referring to a special congressional procedure that would allow legislation to pass with a simple majority of senator votes. Ryan made these comments after an investigative panel organized by Republicans issued a recommendation that, "Planned Parenthood, the nation's largest abortion provider, lose its access to Medicaid reimbursements and federal family-planning funds."
Planned Parenthood could lose up to 40 percent of its funding if the bill becomes law, which could be devastating to the organization and, presumably, the women that is serves in communities across the country. As reported by the Washington Post:
The group reported receiving $553 million in government funding in 2014, about half of its total revenue. Congress has barred federal funding for abortions since 1976, but health providers that offer abortions are eligible to use federal funds for other services.
Those other services include pap smears, UTI and STI treatment, and contraception counseling, along with a host of other assistance to patients. Planned Parenthood is often cited as being an affordable option for low-income women, and indeed, according to an article in the Los Angeles Times in February, an analysis by published in the New England Journal of Medicine stated that there is, "a significant increase in births among women who had previously received birth control at clinics that no longer get state funding":
Though only 23 of the 254 counties in Texas had a Planned Parenthood clinic before 2013, they served 60% of the state's low-income women of childbearing age, according to the study.
So let's say that this reconciliation bill, which is supported by Republicans who currently have majorities in both the House and the Senate, passes when it comes to a vote (which, with those numbers, it is likely to do). What are some of the pros and cons of defunding the reproductive health services nonprofit that is such a source of ire for many conservative politicians and personalities? Just to shake things up, let's start with the cons.
The Cons Of Defunding Planned Parenthood
As previously stated, there is a documented effect on the impact of the loss of services provided by Planned Parenthood on women. According to the LA Times:
The researchers calculated that the relative increase in births was 27% for women who lost access to Planned Parenthood. Many of these births were probably unplanned, since the increase was only seen in counties where women faced new hurdles in access to contraception, the study authors wrote.
In Texas, a loss of access, previously provided by Planned Parenthood, literally led to an increase in births, many of which were likely not planned. And according to Planned Parenthood's website, 80 percent of patients receive services to prevent unintended pregnancy. 80 percent! That means that a huge number of people visit Planned Parenthood to prevent that exact outcome.
But that's not the only reason people visit Planned Parenthood for care. People go to Planned Parenthood for other services, which would be directly affected by a loss of funding. Senator Pat Murray of Washington state tweeted in support, referring to these other services and stating that Planned Parenthood is "critical to the millions of patients who have trusted it for STD screenings, HIV tests, birth control, & more—for over 100 years."
Additionally, Planned Parenthood provides information, resources, and care to people across the gender and sexuality spectrum. Their website lists information on these topics, and provides an easy way to book an appointment to talk about sex, sexual health, and sexuality with staff members.
And for opponents of abortion, a medical procedure provided by many Planned Parenthood locations but not paid for by federal funds since the passage of the Hyde Amendment in 1976, a loss of funding to the organization should be seen as a very bad thing. According to the Guttmacher Institute:
In 2014, publicly funded family planning services provided by Title X–supported centers helped prevent nearly one million unintended pregnancies, which would have resulted in more than 400,000 unintended births and 300,000 abortions.
Funding for family planning at providers such as Planned Parenthood leads to fewer abortions, as they provide counseling, care, and contraception in order to prevent unwanted pregnancies in the first place.
So people who are seeking services such as UTI and STI treatment or contraceptive counseling, low-income women, LGBTQ+ individuals, and any person with the ability to get pregnant could be affected by Planned Parenthood losing federal funding. Particularly, anyone who relies on Medicaid would be impacted.
Now let's take a look at the pros.
The Pros Of Defunding Planned Parenthood
...I've got nothing.
There are demonstrated, documented, and constantly defended reasons for Planned Parenthood to continue receiving federal funding. Planned Parenthood provides care to many different people, across many different communities, and losing up to 40 percent of its funding thanks to a bill targeted at the Affordable Care Act and the organization would be incredibly detrimental for women, and for anyone able to receive care from their centers.
If you care about women's health, take a tip from comedian Chelsea Handler: "Everyone who cares about Planned Parenthood, go online, found out who your local congressperson is, and call them. Scream and yell. It works."
Find your representative and their contact information here.