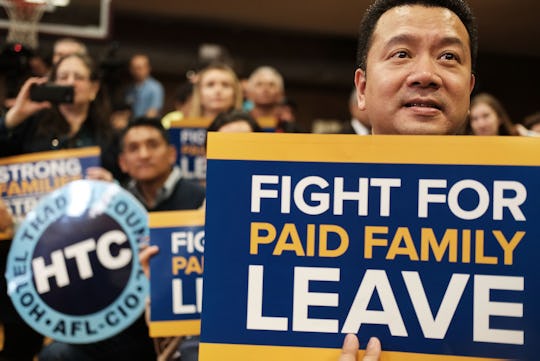 Spencer Platt/Getty Images News/Getty Images
Deloitte Offers Employees 16 Weeks Paid Family Leave & Sets A New Business Precedent
Deloitte LLP made a major announcement on Thursday. The company is rolling out an expansive new family leave policy that will allow all employees, both men and women, to take up to 16 fully paid weeks off from work to provide care for a family member. The issue of paid family leave is most often associated with new mothers, however, Deloitte's new policy is much more inclusive. Male and female employees will now be able to take off from work to care for a child, spouse, and even aging parents. New moms will be eligible for up to six months of paid leave under these new rules, as well. By offering employees 16 weeks of paid family leave, Deloitte is setting an important new precedent for other companies.
Deloitte CEO Cathy Engelbert revealed to Fortune that the decision to revamp the family leave policy was "about being more inclusive," as well as wanting "to be known as an innovative talent organization." EY, another professional services firm, announced an update to its family leave policy back in April. EY revealed it would be offering up to 16 fully-paid weeks off for new moms and dads employed by their company.
At the time, this was a major step forward in the evolution of family leave in America and EY knew it, calling themselves a "1st mover in equalizing parental leave benefits for men and women among the Big Four, Accenture, IBM and other professional services firms" in a press release. Deloitte rose to the challenge and blew past EY with it's new paid family leave policy. ‌
While the policies offered by these two companies are certainly progress, the reality of paid family leave in America is still fairly stark. According to U.S. Department of Labor, only 12 percent of American private sector workers have access to paid family leave. The United States is one of two countries in the whole world that does not guarantee paid leave for new parents. The Family and Medical Leave Act (FMLA) states that qualifying American parents should be guaranteed 12 weeks of family leave to care for a newborn child, however, it does not state that this leave must be paid.
In 2014, President Obama hosted the first-ever White House Summit on Working Families. The goal of the summit was to bring business leaders and American workers together to talk about the challenges facing parents, as well as look for solutions that were beneficial for both families and employers. Obama spoke about the necessity of paid family leave in America leading up to the event, saying "many jobs don't offer adequate leave to care for a new baby or an ailing parent, so workers can't afford to be there when their family needs them the most. That's wrong. And it puts us way behind the times."
It's been two years since the first White House Summit on Work Families. It's encouraging to see that progress is happening, even if access to paid family leave is still limited. President Obama's 2016 financial budget included more than $2 billion allocated to help States develop better paid family leave programs, according to the U.S. Department of Labor.
The benefits of paid family leave on both employers and their employees have been widely studied. Paid maternity leave increases the number of women in the work force, an important contributing factor to economic growth. Paid paternal leave allows men to take off and act as caregivers to their newborn children, which has positive effects of families. It's time for America to recognize these benefits and step up the family leave game.
Companies like Deloitte and EY are setting a monumental new precedent for their peers to follow. Hopefully many more companies make paid family leave more accessible to their employees.