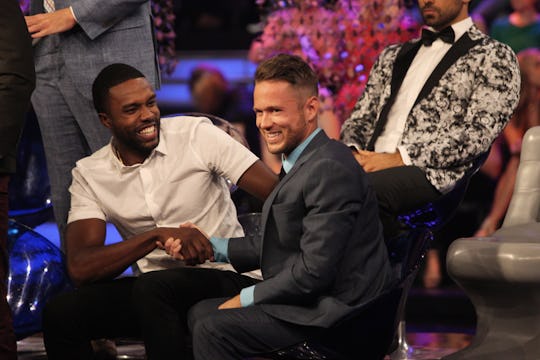 Paul Hebert/ABC
DeMario & Lee's Relationship May Surprise You On 'The Bachelorette: Men Tell All'
As The Bachelorette inches closer towards the finale, there's one more thing viewers have to sit through before finding out who won Rachel's heart: Men Tell All. Yes, the contestants who failed to advance to the fantasy suites come back to make their peace with the show (and with Rachel). Two said contestants didn't have the highest of reputations when they exited the show: DeMario and Lee. Both had distinct dramas unfold, but the result was the same: they are certainly not fan favorites... but are they friends? DeMario defended Lee's behavior on The Bachelorette: Men Tell All and Twitter wasn't having it.
When the Kenny and Lee feud occurred, longtime members of Bachelor Nation knew they could expect that it would come up during the Men Tell All special — and they weren't disappointed. After being given a recap with clips (and the anger for Lee boiled back up for everyone), they put Lee in the spotlight for antagonizing the other contestants. There was really only one person that defended him: DeMario. Now, DeMario had a ton of drama of his own on the show. After a group date, his ex-girlfriend showed up to tell Rachel that they were still dating when DeMario went on Nick Viall's After the Final Rose in an attempt to win the newly appointed Bachelorette Rachel over early. Needless to say, Rachel let him go — and quickly.
On Men Tell All, DeMario spoke out in support of Lee. He called him a "genuine guy"... which, considering both Lee and DeMario's history on The Bachelorette, it doesn't seem like a great compliment. Fans on social media immediately called DeMario out for these hollow words:
Partway through Men Tell All, however, it seemed that DeMario changed his opinion on Lee. While he was in the hot seat, Chris Harrison read several of his problematic tweets out loud, including one where Lee compared the NAACP to the KKK. DeMario couldn't stand for that, and called what Lee said "blasphemy." He said he wanted to sit Lee down and give him a history lesson because what he said was that terrible (which, I can't help but agree with DeMario here).
Perhaps DeMario called Lee "genuine" because he truly didn't know about Lee's past, or about how Lee treated some other contestants after he was kicked off the show. DeMario may have just made a 180 on whether he calls Lee a friend. Twitter went off on his initial feelings, but they are probably more aligned with his disdain for Lee's behavior.