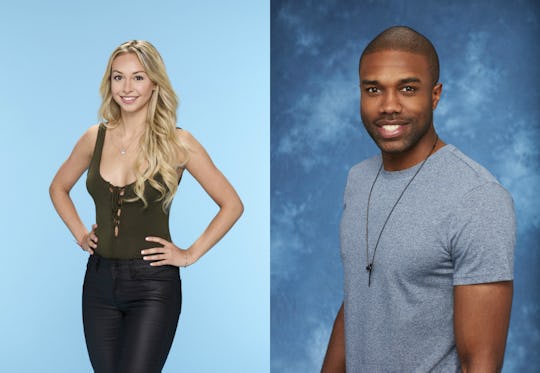 ABC/Mitch Haaseth/Craig Sjodin
DeMario's E! News Interview About 'BiP' Is Not OK
Earlier this month, Warner Bros. launched an internal investigation into an alleged sexual encounter between two contestants on the set of Bachelor in Paradise, prompting an wide-ranging discussion about consent and alcohol consumption. While the production company has since cleared the show of any misconduct — concerns that were raised by two producers who worked on the reality show — there are still a lot of questions about what happened. And contestant DeMario Jackson's E! News interview about Bachelor in Paradise and his telling of the alleged ordeal raises even more concerns. Romper has reached out to Warner Bros. for comment regarding Jackson's interview and is awaiting a response.
UPDATE: In an email to Romper, Warner Bros. spokesperson declined to comment on Jackson's E! News interview.
EARLIER: In a clip of the three-part, two night interview with E! News, Jackson, who was also a contestant on this season's Bachelorette, recalls his side of the story about what happened on the set of the Bachelor spin-off series. According to initial media reports, the show was suspended after producers allegedly filmed Jackson in a drunken sexual encounter with fellow contestant Corinne Olympios, who may have been "too intoxicated to consent," People reported initially.
Olympios has since said that she doesn't remember what allegedly happened between her and Jackson and has called herself a "victim," according to a statement obtained by The Hollywood Reporter.
In the preview clip of the interview, Jackson partly speaks about how the allegations have affected him and his family, calling it "stressful" and explaining that it was difficult seeing his mom "cry every single day."
Dealing with allegations like these is not easy for anyone involved — including someone's mother and loved ones as well as both participants, one of whom has said she's been dealing with "emotional trauma" and called the controversy "her worst nightmare," according to The Hollywood Reporter.
While the clip does not show Jackson's comments in their entirety, he does explain the encounter in detail. He said in the interview that they first met at the bar and things between them "got a little hot and heavy" and she got in his arms and they "started making out."
"I was like, 'Hell yeah!' You know, I'm down for it. I'm not gonna...I don't think any single man — some married ones — wouldn't turn down Corinne. She's a beautiful woman!" he told E! News.
While others had reportedly voiced concerns that Olympios was too drunk, Jackson said he didn't think so when she allegedly suggested to go to the pool, where the sexual encounter in question reportedly happened. At that point he explained that he felt he needed to put his guard up.
"It's crazy because when you're a man — mostly African American man — no matter where you're at, you always look for things that can help you out. And at that moment, I made sure the cameras followed us."
Jackson went into detail about what allegedly took place in the pool, insisting that Olympios made sexual advances toward him.
While it's important that every person involved in a situation like this is able to tell their side of the story and have the opportunity to defend themselves, this is not your average case. This has not been not dealt with in privacy — it's been broadcast across the nation for thousands of people to share their opinions and judgements. And because Olympios and her legal team are still investigating the incident, the repercussions could be damaging.
Instead of dishing all of the intimate details of what did or did not go down that do, it's important to remember that there should be a mutual level of respect until a final verdict has been reached and both parties have had time to heal from such a horrifying ordeal.
Jackson may have thought he was doing himself and others a favor by speaking out so publicly, but for now, arguably, it was not the wisest move.