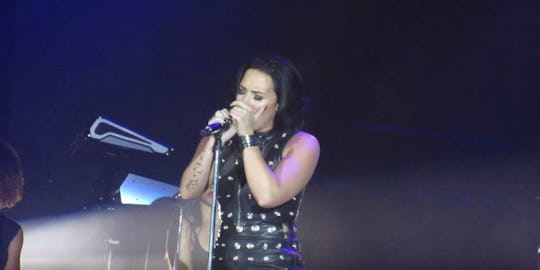 Riley Baltazar/YouTube
Demi Lovato Covered Adele's 'Hello' & Killed It, But It's Not The Only Time She's Wowed Us With An Original Cover
Adele is an artist only the most daring will try to belt out at karaoke night. But one singer is being widely praised for doing her newest hit perfect justice. At Seattle's Fall Ball on Saturday night, Demi Lovato covered Adele's "Hello"... and two days later, the Internet is still floored. One thing's for sure — Lovato's emotional rendition raised the bar even higher for all those YouTubers out there who have tried recreating the song for themselves.
"Hello" has been giving us all the major feels since it dropped late last month, prompting countless covers across the Internet. But it's safe to say Lovato's cover is the best one yet. Her performance at the Fall Ball has resonated with tons of people who gave it a listen. The video, which was uploaded to Youtube just yesterday, has already amassed more than 1.3 million views and is receiving glowing feedback. "I swear Demi's voice is like fine wine.... It just gets better and better with time," one highly-rated comment read. Another user wrote, "She's so underrated, can she win a Grammy already? Her vocals are incredible!"
And this pitch-perfect performance is only the beginning for Lovato. According to E! Online, on Oct. 26 the "Let It Go" singer announced she'll be launching a "Future Now Tour" with Nick Jonas next summer. Come June 2016, the tour will kick off in Florida, and close in Los Angeles on Sept. 17.
Lucky for us, this isn't the only song Lovato has taken on — and absolutely slayed. Here are three more songs the singer's masterfully covered over the last few years: