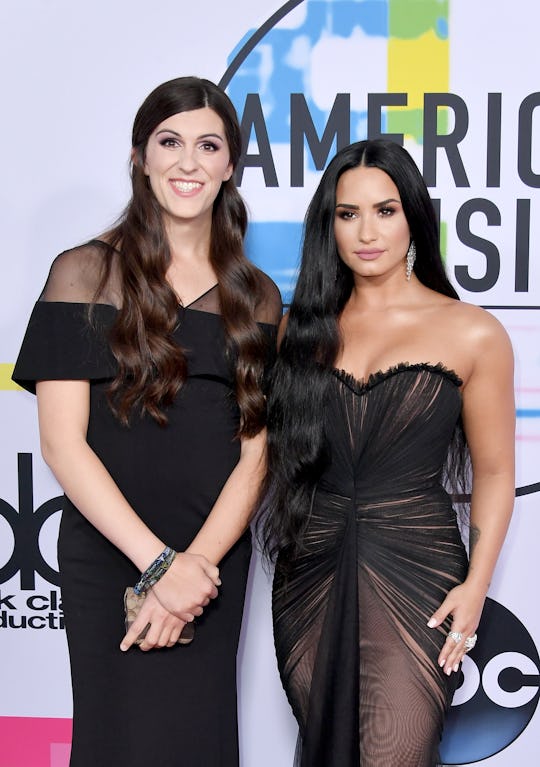 Neilson Barnard/Getty Images Entertainment/Getty Images
Demi Lovato's Date To The AMAs Made A Beautiful & Historic Statement
It might not seem like it's possible, but 2017 is almost over. And as Thanksgiving looms ahead, the American Music Awards are here to remind everyone of the music created this year and the impact it's made. Of course, politics also took center stage, and considering that Demi Lovato took the first transgender legislator, Danica Roem, to the 2017 AMAs, the show was basically bound to get people talking.
Yes, Lovato also took the stage to perform her hit single, "Sorry Not Sorry," but it was her red carpet entrance with Roem that made a lasting and beautiful statement. If you missed it in all the chaos that this year has been, Roem was elected to the Virginia House of Delegates on Nov. 8, unseating one of the state's most notable conservatives, Robert G. Marshall, whose campaign repeatedly and purposefully misgendered Roem, according to The Washington Post. And so now, Roem is truly showing the haters just how much of a boss she is, attending the AMAs alongside one of the nation's pop princesses.
Lovato explained that she reached out to Roem after her win, explaining to E! News, "We connected because I heard her story. She is actually the first out and seated transgender state legislator in American history and when I heard that I was just completely inspired by it."
Lovato went on to explain that she hoped that bringing Roem would show the world that love will always win. "My story with 'Sorry Not Sorry' is about bullying and I wanted to have her in the audience with me tonight because I feel like we have been through some of the same things and now we get to share this experience together," she told E! News. And clearly, Twitter was totally in love with the two boundary breakers appearing together.
GLAAD President and CEO Sarah Kate Ellis agreed with Lovato's explanation, telling E! News, "Demi Lovato and Danica Roem are two strong and inspirational women who embody the need for all Americans to stand together united and to take action today against any form of discrimination and oppression." And considering that Lovato herself was the 2016 GLAAD Media Awards' Vanguard winner, it makes total sense that the singer would want to stand tall and proud with such a trailblazer as Roem.
According to E! News, Tracee Ellis Ross, the AMAs' host this year, also went on to say that both Roem and Lovato represented the values that America needed to truly understand:
Danica Roem is a trailblazer whose win in Virginia showcased both how young people and marginalized communities can impact voting results and how every American deserves an opportunity to work hard and achieve their dreams. Demi Lovato continues her legacy of raising the bar for entertaining audiences around the world and for spotlighting social issues that need the most attention.
After her historic win in Virginia, Roem took the opportunity to dedicate her victory to every other person who has been marginalized like she had. "To every person who's ever been singled out, who's ever been stigmatized, who's ever been the misfit, who's ever been the kid in the corner, who's ever needed someone to stand up for them when they didn't have a voice of their own," she said, according to The Washington Post. "This one is for you."
Truly, Lovato's decision to bring Roem on the red carpet was one meant to send a powerful and crucial message. Hate has no place in America, and Roem's historic win showed that it's possible to overcome bigotry, fear, and discrimination. And Lovato bringing her into an even larger spotlight goes to show that no matter how many people tried to bring her down, Roem persevered, and all that hard work, love, and determination paid off in the end. That's something to celebrate, and a red carpet seems more than appropriate.
Check out Romper's new video series, Romper's Doula Diaries:
Watch full episodes of Romper's Doula Diaries on Facebook Watch.