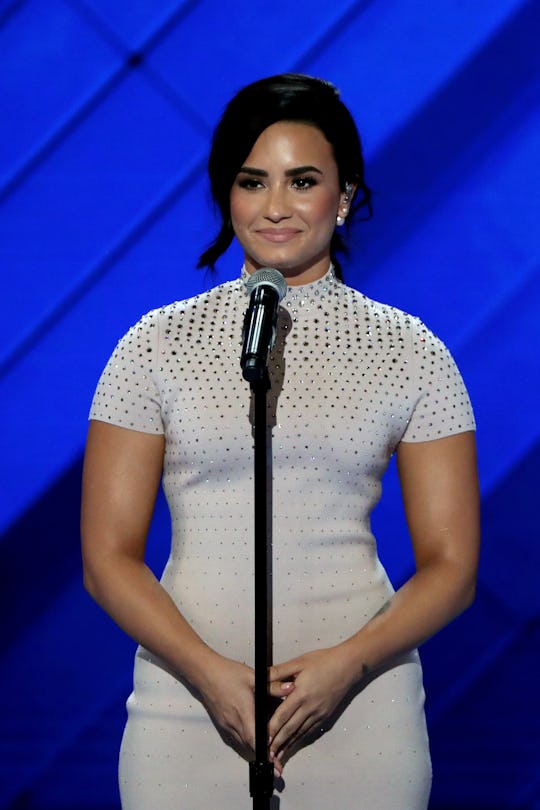 Alex Wong/Getty Images News/Getty Images
Demi Lovato's DNC Comments Were Incredibly Refreshing & Honest
Speakers on the opening night of the Democratic National Convention touched on some very important and personal topics that millions of Americans face every day. One speech that everyone should pay attention to is Demi Lovato's DNC comments, because they were incredibly refreshing and honest. The pop star opened up about her own battle with mental illness and spoke on what she thinks politicians should do to take care of other Americans struggling with the same issues, but who may not be as fortunate as others seek the help they need.
"Like millions of Americans, I am living with mental illness. But I'm lucky. I had the resources and support to get treatment at a top facility," Lovato said on Monday evening. "Unfortunately, too many Americans from all walks of life don't get help, either because they fear the stigma or because they can't afford treatment."
The 23-year-old singer has struggled with bipolar disorder, eating disorders, and substance abuse for years and has since become a mental health advocate.
"I stand here today as proof that you can live a normal and empowered life with mental illness," she continued to the Democratic convention crowd. "I am proud to support a presidential candidate who will fight to ensure all people with mental health conditions get the care they need to live fulfilling lives."
Throughout her speech, she urged politicians to support laws that would provide more access to quality healthcare support for everyone and to break the stigma that is attached to a mental illness diagnoses.
"We can do better, every one of us can make a difference," she said. "This is not about politics, it is simply the right thing to do."
Lovato is a spokesperson and advocate for the initiative "Be Vocal: Speak Up for Mental Illness," which aims to encourage people to use their voice in support of mental illness and aims to empower adults with a mental health condition to tell their doctors and support teams about their struggles.
According to the organization's website, approximately 12.6 million Americans are affected by bipolar disorders, and an estimated 29 million worldwide.
The pop star has been devoted to using her celebrity status as a platform to spread awareness and to rid the stigma of mental illness, which she deals with her day-by-day.
"This is an ongoing process and the hardest part about these diseases is that they're things that I'm going to have to face every day for the rest of my life," Lovato said, according to Mental Healthy. "I'm going to mess up and I'm not going to be perfect, but as long as I try everyday to get better and better myself, then I'm one step ahead of where I was before."