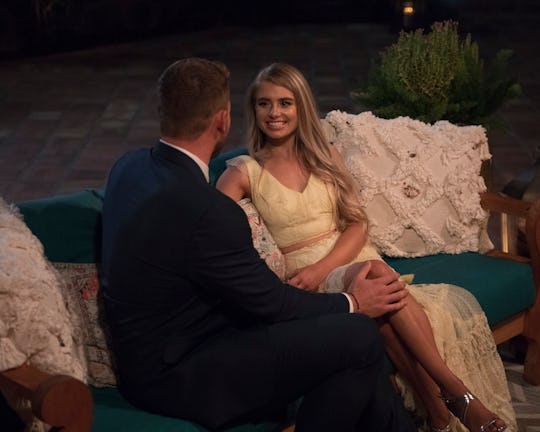 Rick Rowell/ABC
Demi Revealed A Shocking Fact About Her Mom On 'The Bachelor'
The Bachelor Season 23 is underway and one contestant is already generating a lot of buzz. (No, not the one with the fake Australian accent, although she already has a lot of fans.) A Texas woman named Demi opened up about her mom in prison on The Bachelor during her intro package and fans zeroed in on her right away.
Demi, 23, described herself as "super bubbly, outgoing, sassy, a country girl," and said she wasn't afraid to get her hands dirty and have some fun. She lives in Texas with her dad and step-mom and explained right away when she got a call from a federal prison in the middle of her intro interview that her mom was incarcerated for embezzlement.
"My mom is actually going to get out very soon and the next time that I would potentially see her would be with Colton," Demi said, which would make a pretty groundbreaking hometown date for the series. In the phone call with her mom, we heard her say she'd be out "on the 25th," and according to the Federal Bureau of Prisons, her mom Tina Jean Jordan was released on Nov. 23, 2018. Viewers also saw a clip of Demi writing a letter to send to her mom in prison. Despite their separation, it's clear that the two have a super close and affectionate relationship (Demi still calls her "Mommy"), and there doesn't seem to be any bad blood between them.
Demi also had the honor of being the first woman out of the limo to meet Colton and definitely made a cute, if somewhat intimidating, impression with a joke about how she hadn't dated a virgin since she was 12 (but she was ready to give it another try). Colton chuckled, which is for the best since he has a season's worth of virgin jokes ahead of him. But in spite of her cheery opening, Demi admitted that she had mixed feelings about Colton's status as a virgin in her intro interview. Said Demi:
I'm really excited for Colton. I know that he's a virgin, which is kind of concerning. If you've only ever had a vanilla cupcake, well, how do you know you don't like chocolate? How do you know you don't like strawberry? So you've got to try out all the cupcakes first to know what you really want. I'm the damn confetti cake.
Noted!
Demi made good on her promise of a confetti cake personality by being the first woman in the house to pull Colton aside for one-on-one time at the cocktail party, and they actually had pretty good chemistry! She didn't say anything about her mom just yet, but given how open and generally positive she is about it, it's likely Colton will get to hear about it soon.
After a very frustrating first birth experience, this Deaf mother wanted a change. Will the help of two Deaf doulas give the quality communication and birth experience this mom wants and deserves? Watch Episode Four of Romper's Doula Diaries, Season Two, below, and visit Bustle Digital Group's YouTube page for more episodes.