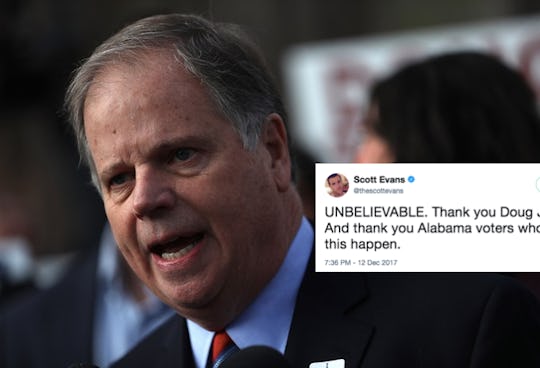 Justin Sullivan/Getty Images News/Getty Images & Scott Evans/ Twitter
Twitter Is Crying Tears Of Joy After Doug Jones Defeats Roy Moore For Senate Seat
The nation has been on pins and needles waiting to see who would would win the vacant Alabama Senate seat. And now that the results have been announced, Americans are overjoyed to learn that Democrat Doug Jones has defeated Roy Moore for Jeff Sessions' old seat in the Senate, according to CNN, certainly shaking things up for the GOP majority.
Jones' victory has made the nation (perhaps literally) cry tears of joy, as it not only narrows the Republican's majority in the Senate right now — which will now stand at a more even 51-49 — but the 63-year-old's win at the polls means that one controversial political figure is officially out of the race. Moore, the former chief justice on the state's supreme court, has been dominating headlines recently after allegations surfaced that he had reportedly sexually abused teens while he was in his 30s as well as "his history of controversial comments about women and minorities," according to CNN.
While those alone had been enough to steer voters in the opposite direction, President Donald Trump's endorsement of Moore ignited further outrage and frustrations regarding the current political climate, questioning why the POTUS would back someone who has been accused of initiating a sexual encounter with a 14-year-old girl when he was 32, according to The Washington Post. (Moore has firmly denied all of the allegations made against him, according to Newsweek.)
Following Jones' win on Tuesday night, Trump posted a congratulatory, yet passive aggressive tweet. "Congratulations to Doug Jones on a hard fought victory," he tweeted. "The write-in votes played a very big factor, but a win is a win. The people of Alabama are great, and the Republicans will have another shot at this seat in a very short period of time. It never ends!"
Jones, for his part, said he's been "waiting all [his] life" for this moment following the news of his win, according to CBS News. "I have always believed that the people of Alabama had more in common than what would divide us," he said during his victory speech, adding:
The people of Alabama have always had more in common than to divide us. ... We have shown the country the way that we can be unified. … Folks we have come so far, we have come so far and the people of Alabama have spoken.
Jones remarked that he was "overwhelmed" by the results and called it "historic" day, according to Heavy. He also thanked his state in a tweet on Tuesday night, writing: "Thank you ALABAMA!!"
Twitter quickly chimed in to partake in the celebrations, many sharing that they feel hope again.
Celebrities even took a moment to congratulate Jones and share their excitement for the nation's future.
Jones' presence in the Senate will undoubtedly be a blow to much of the GOP's agenda, but he will also provide many citizens with a voice of reason. For example, Jones supports women's reproductive rights, according to Quartz, explaining in an interview last month that he "fully support[s] a woman's freedom to choose to what happens to her own body." He continued, "That is an intensely, intensely personal decision that only she, in consultation with her god, her doctor, her partner or family, that's her choice."
Not only will women have one more voice in the Senate, but Jones is already showing where he stands on funding for the Children's Health Insurance Program (CHIP). According a tweet from MSNBC host Chris Hayes, Jones said during his acceptance speech "Doug Jones to his future colleagues: 'Go ahead and fund that CHIP program before I get there.'"
It's been a long and trying road, but Jones' defeat against Moore is giving the nation hope that change can indeed happen. And now it's finally happening.