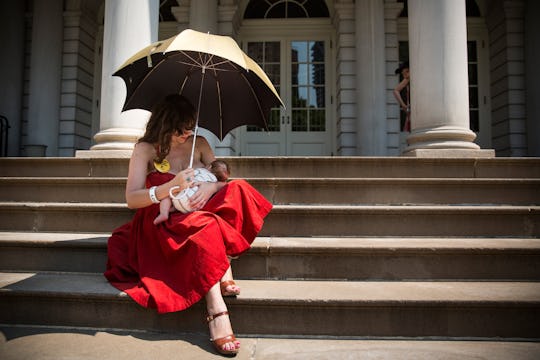 Andrew Burton/Getty Images News/Getty Images
Democratic Candidates' Stances On Public Breastfeeding Are Refreshing
Last month, a mom from Ohio was attending a Bernie Sanders rally in Cleveland when her baby, which was smartly dressed in a patriotic headband, got hungry, as babies do. The baby's mother didn't miss a beat. While simultaneously cheering on the Democratic presidential candidate, she began to breastfeed her daughter. A reporter captured the moment, and it easily and swiftly went viral. But unlike other viral breastfeeding stories, this one had a sweet ending: According to the mama, Margaret Ellen Bradford, Sanders and his wife thanked her for doing what moms do: taking care of their little ones. Since that incident, voters have gotten to know a bit more about where both Democratic candidates stand on public breastfeeding — and it's been refreshing, to say the least.
"Bernie and Jane O'Meara Sanders both thanked me for doing what mothers do and taking care of my daughter when she needed her mom," Bradford said in a later Facebook post, "even if that meant nursing in public!" After Bradford's photo went viral, moms everywhere were inspired to create #BoobsForBernie hashtag.
Sanders himself shared the viral photo on his Twitter account, targeting the negative responses women receive about public breastfeeding. "As a society, we should never stigmatize women for breastfeeding in public," he said.
While the photo itself was unintentional and the attention it's gained was unexpected, it gave Sanders an impromptu platform to state how he feels about public breastfeeding and many women are applauding his response.
Hillary Clinton too has found opportunities to let voters in on her stances about breastfeeding in public — and in her favor is the fact that she herself has seen it all, and done it all before.
Last year, photographer Tara Ruby photographed ten active military mothers breastfeeding their children and uploaded the images to Facebook, sparking a debate over breastfeeding in public and the need to show more gratitude for working moms. Countless women wrote to Ruby praising the photoshoot and sharing personal experiences while in uniform. The photo has been liked and shared more than 20,000 times to date. It's also caught the attention of Clinton.
In a Facebook post on her official page, Clinton applauded the photos and shared her support for working mothers. "Amazing photo," she wrote. "We need to support all working mothers—including those in uniform." Although Clinton never directly addressed the topic of public breastfeeding, she did allude to it by posting the photo at all — and as a feminist, there's no doubt in anyone's mind that Clinton likely supports public breastfeeding for all moms too.
Ultimately, both candidates have refreshing views on public breastfeeding, especially in an era when women already face stigmas in all areas of life. For them, it's one less thing to worry about when heading to the polls.