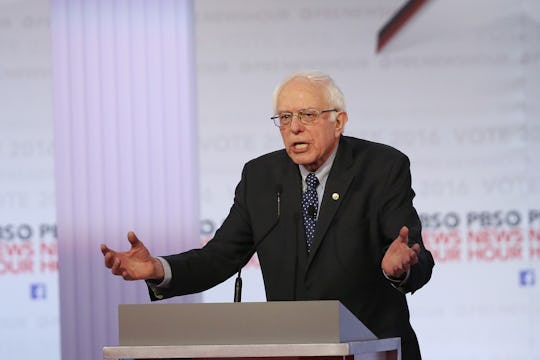 Scott Olson/Getty Images
Democratic Debate Jokes & Memes Guaranteed To Make Anyone LOL
The heat is on. Thursday night's PBS/Facebook Democratic primary debate saw candidates Vermont Sen. Bernie Sanders and former Secretary of State Hillary Clinton go head to head over recent hot-button issues and spar over their public differences. The two have been engaged in a fiery feud for the past few months, since Clinton's camp first accused Sanders of unconsciously sexist behavior last October, so the candidates' tense showdown this week was largely unsurprising to anyone following the tight 2016 race. Of course, if you're not invested in politics, there were still plenty of Democratic debate jokes and memes peppering social media to keep you busy while your more politically-savvy buddies cheered and jeered on Thursday night.
"Democrats," joked TheLi.st founder Rachel Sklar, breaking down the debate for anyone unable to follow along with all the political jargon, "both of these people are SO MUCH BETTER THAN THE ALTERNATIVE."
Other Twitter users jumped on the bandwagon with a more humorous edge. "I really feel like I am at my condo association meeting," quipped CNBC contributor and radio host Carol Roth.
Given the serious nature of Thursday night's debate (with Clinton and Sanders delving into budget details, civil rights issues, and the dirty deets of healthcare and free college), viewers at home were likely thankful for the hilarious interludes.
Here were some of the very best:
Love them or hate them, at least the Democratic politicians a serving up a primary debate worthy of some pretty hilarious jokes. And isn't that the most important part of any presidential campaign?