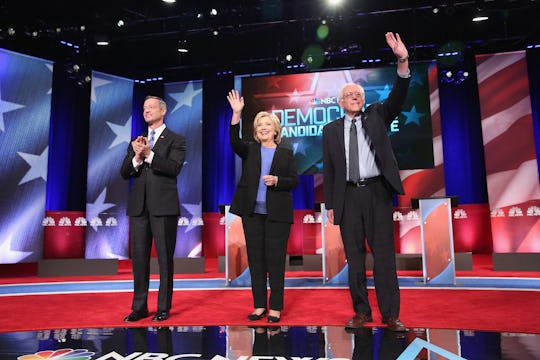 Andrew Burton/Getty Images
Democratic Debate Jokes & Memes That Hilariously Point Out Just How Strange The Evening Was
Sunday night marked the final Democratic debate before primaries as Democratic presidential candidates Hillary Clinton, Bernie Sanders, and Martin O'Malley took a tension-filled stage in Charleston, South Carolina. Clinton and Sanders have been drawing ever closer in the polls, and in recent debates have traded barbs on gun control, healthcare, and electability. Sunday was no different, with topics ranging from Chelsea Clinton, to race, to Wall Street — and Twitter was ready with plenty of perfect Democratic debate jokes and memes that reflected the evening's craziest moments.
"[The candidates tonight are] just yelling at each other about their own idealistic views of the world before riding off on their own separate unicorns," joked one user, remarking on the testy atmosphere inside the NBC News debate auditorium.
Of course, one of the best places to find public opinion on the candidates and their stances is Twitter, where the public gets to weigh in on the debate. It's a little harder to live-tweet jokes and memes during a Democratic debate since, let's be honest, there's no Donald Trump to make our heads explode. Still, a few tweets hit the nail on the head:
People got ready for the debate with a bit of fun (and games):
Feel free to use this bingo chart as a drinking game, too.
Some joked about the candidates trying to be relatable to millennials.
Others thought O'Malley's opening was a bit weak...
...while some wanted O'Malley to go back to his intro.
Others liked Sanders' polling jab at Clinton.
A few people were confused by the animated cartoon.
And yeah, the Bern got some good points in.
Clinton also seemed pretty tight with Obama.
And, finally, poor O'Malley really couldn't catch a break.