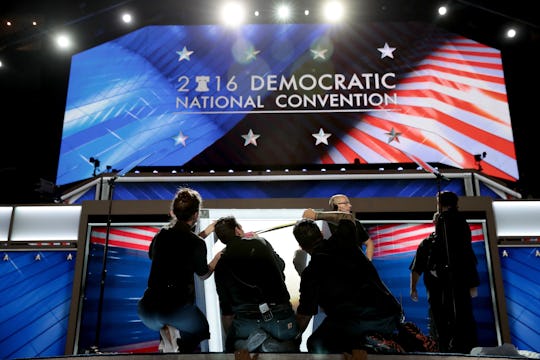 Drew Angerer/Getty Images News/Getty Images
Democratic National Convention Jokes & Memes Highlight Differences From The RNC
It's been an interesting couple of weeks for anyone paying attention to the future of the country. Coming on the heels of last week's eventful Republican National Convention, the Democratic National Convention began on Monday in Philadelphia. By the end of the week, former Secretary of State Hillary Clinton will be the official Democratic presidential nominee, but in the meantime, there's sure to be plenty of inspiring speeches, protests, and fodder for memes and jokes about the DNC.
Though Democrats went into the week hoping for unity, the convention got off to a rough start on Monday. Over the weekend, leaked emails showed members of the DNC demonstrating pro-Clinton bias during the primaries, angering supporters of Vermont Sen. Bernie Sanders. Many of them took to the streets of Philadelphia to protest Clinton and the DNC, in some cases even using the harmful "Lock her up!" language favored by those at the RNC. Others went so far as to boo during Sanders' speech to them, when the senator called for their support of Clinton as the only way to prevent Trump from coming to power.
Still, the convention provided plenty of moments ripe for meme-ifying, and lots to joke about or celebrate.
It's yet to be seen, though, if the convention will provide anything as meme-worthy as the RNC's best memes, many of which focused on possible future first lady Melania Trump allegedly plagiarizing Michelle Obama's 2008 convention speech. (The internet will probably explode if the first lady makes reference to any of those memes in her speech at this convention. She's probably too classy, but still, fingers crossed.) The other big moment of shock from the RNC came when Texas Sen. Ted Cruz refused to endorse Republican nominee Donald Trump, eliciting some boos, some surprised approval, and tons of chatter on social media.
Plenty of people were also quick to point out the somewhat bizarre speakers featured at the RNC, like Scott Baio, an actor who many haven't thought about in years, and Ultimate Fighting Champion president Dana White. In contrast, the DNC opened with Boyz II Men which, while they may not be the most relevant band in the world, certainly excited those following along on social media.
There are still multiple days of speakers and events. And perhaps the biggest theme of this whole election so far seems to be that anything can happen. So those hoping for some excellent memes and jokes out of the DNC won't be disappointed.