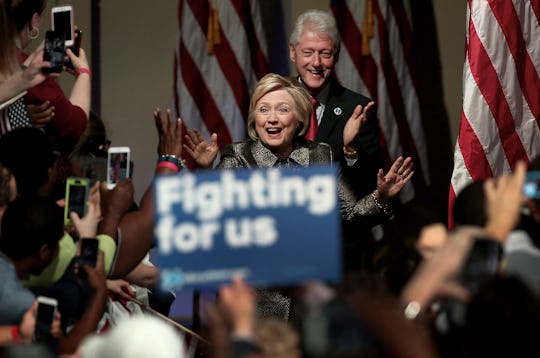 Win McNamee/Getty Images News/Getty Images
Democrats Will Call For Death Penalty To Be Abolished & It's A Historic Move
The death penalty is one of the most controversial subjects when it comes to politics. It has been highly debated and talked about for centuries — whether or not it is humane or necessary when it comes to punishing criminals and making them pay for their crimes. Now, in it's official party platform, the Democratic Party is speaking out. In a historic move, just ahead of the Party's convention on July 25, the Democrats will call for the death penalty to be abolished — taking a serious stance on an equally serious issue for the first time.
This change has been a long time coming. According to the Democratic National Convention's website, this year's platform process is the most representative and inclusive in history. The full Democratic Platform Committee met on July 8 and 9 to discuss the revisions in the party's platform which resulted in some changes — like this death penalty provision.
According to NBC News the 2016 Democratic Party Platform will include a provision about the death penalty to be included in the platform and presented at the Democratic National Convention in Philadelphia on July 26. The provision will state the following:
We will abolish the death penalty, which has proven to be a cruel and unusual form of punishment. It has no place in the United States of America.
The full 2016 Democratic Party Platform draft is available to view here — complete with the death penalty provision added in.
This is a pretty big deal. Not only because this is the first time that this has happened but also because, in the past, Hillary Clinton, the proposed Democratic Party nominee has gone back and forth about her stance on the death penalty. In a March 2016 CNN Town Hall interview, Clinton stated that she only supports the death penalty when it comes to cases of terrorism:
... Given the challenges we face from terrorist activities, primarily in our country, that end up under Federal jurisdiction, for very limited purposes I think it can still be held in reserve for those. That is really the only exception I am struggling with.
But this provision doesn't have exceptions — it calls for the absolute abolishment of the death penalty. Hillary and former President Bill Clinton were vocal about their support of the death penalty during Bill's presidency. Therefore, it will be important to watch Hillary's stance on the death penalty and see whether she sides with her political party in full as she campaigns to be the next Commander in Chief.
Currently, in the United States, states continue to support and carry out the death penalty. There are 31 states that have the death penalty and there have been 15 executions that have been carried out in 2016 thus far — which almost all happened in southern states.
This new provision in the Democratic Party platform could go over multiple ways with voters. While it is incredible progress to be made to abolish the death penalty, according to NBC News, a majority of voters still support capital punishment sentences. Whether or not this has an effect on how voters will cast their ballots in this upcoming presidential election is something party officials will have to wait out come campaign time.
Still, it is amazing to see this kind of progress and peace be promoted in the 2016 Democratic Party platform — making such a historic move for the first time in years, just ahead of a monumental election, if nothing else, certainly sends a statement.