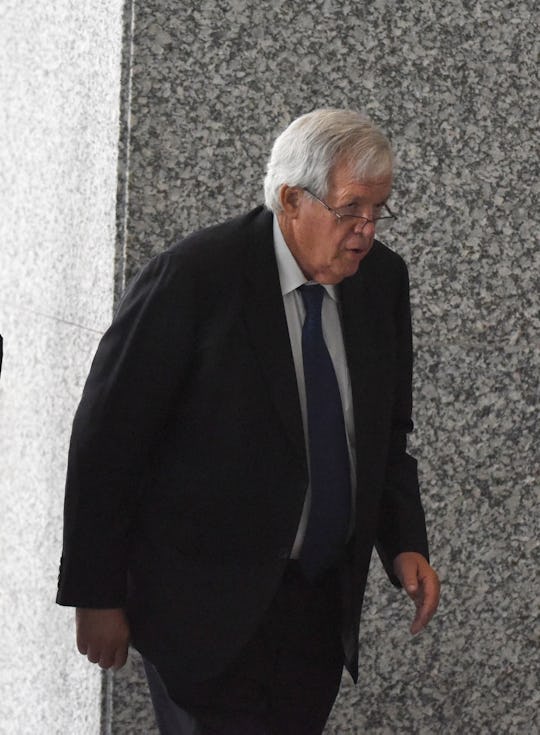 David Banks/Getty Images News/Getty Images
Dennis Hastert Accused Of Molesting 4 Boys, Prosecutors Say
On Friday, federal prosecutors brought evidence to try to prove that former Speaker of the House Dennis Hastert allegedly molested up to four boys when he was their wrestling coach years ago. However, the former Speaker of the House hasn't been formally charged with a crime yet. Earlier this week, before the specific allegations of abuse were presented in court, Hastert's attorneys released a statement concerning his sentencing for the financial "misconduct," according to CNN. They wrote:
Mr. Hastert is deeply sorry and apologizes for his misconduct that occurred decades ago and the resulting harm he caused to others. He will stand before the court having deteriorated both physically and emotionally, undoubtedly in part due to public shaming and humiliation of an unprecedented degree.
Thomas Green, one Dennis Hastert's attorneys, provided Romper with the following statement on the allegations of molestation against the former Speaker:
Mr. Hastert acknowledges that as a young man he committed transgressions for which he is profoundly sorry. He earnestly apologizes to his former students, family, friends, previous constituents and all others affected by the harm his actions have caused.
As stated in our sentencing memorandum, we note that for the last four decades he has made every effort to be a positive force in the lives of others. We also advised the Court that the profound humiliation and public shaming Mr. Hastert has and will continue to experience, coupled with the resulting isolation and abandonment he has endured, are already significant punishment and have undoubtedly contributed to his fragile medical condition. He accepts responsibility for his conduct, seeks no special consideration, and is prepared to receive the Court's sentence.
Even though it seems that the statute of limitations (the allegations of molestation took place in the 1960s, 1970s, and 1980s, according to the New York Times), prevent Hastert from being charged with the alleged abuse, prosecutors are hoping to making recommendations to a judge anyway for Hastert's sentencing in another, related crime.
This past October, Hastert pled guilty to, and was charged with, intentionally hiding payments to the alleged victims over the years by taking out small sums of money that he wouldn't have had to report. According to the BBC, Hastert was allegedly able to pay the victims upwards of $3.5 million before being questioned by the FBI about the withdrawals.
His sentencing for the financial charges is set for April 27, though due to a stroke Hastert suffered in November, his attorneys are asking for probation due to the former Illinois representative's poor health and because he has already been publicly shamed and "knows that, for the rest of his life, wherever he goes, the public warmth and affection that he previously received will be replaced by hostility and isolation," according to the Washington Post. Despite Hastert's pleas, prosecutors will be asking the judge to sentence Hastert to jail for six months for the banking violations and in light of the new evidence, according to court documents. Because of the statute of limitations, if convicted, they can't give Hastert more time due to the allegations, but they will recommend he serve the maximum jail sentence for his financial misconduct, according to the plea.
According to The New York Times, the prosecutors presented graphic evidence supporting the allegations from at least four men and a possible fifth, who is now dead. All of the alleged incidents reportedly occurred when Hastert was a wrestling coach at a high school in Yorkville, Illinois, and the claims against Hastert include giving the men massages, performing unspecified sex acts, inviting them to stay with him in hotel rooms, and watching them shower in locker rooms.
Hastert served as the Speaker of the House from 1999 to 2007, under both President Bill Clinton and George W. Bush. He was succeeded by Nancy Pelosi.