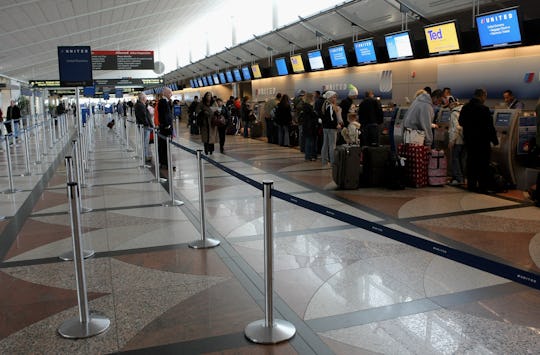 Doug Pensinger/Getty Images News/Getty Images
Denver Airport Evacuated After Possible Security Threat — REPORT
Following a wave of attacks on the capital city of Brussels in Belgium on Tuesday, authorities reported that parts of the Denver International Airport had been evacuated in the wake of a potential security threat. Airport officials stated in a tweet that they were busy investigating the situation. The possible threat reportedly affected American, Aero Mexico, Air Canada, Lufthansa, and British Airways.
"DPD is evacuating a section of the main terminal on the west side between doors 600 and 610 to investigate a possible security threat," an airport official tweeted on Tuesday, adding that many flights remained on schedule. "Evacuation area includes west side of the main terminal levels 5 and 6, from doors 600-610 ... No vehicle traffic is being allowed on the west side of the terminal. East side remains open to passengers." A later tweet specified that police were in the process of investigating a "suspicious package", and that personal luggage was being re-routed to accommodate police presence.
According to a report by The Denver Post, level five of Denver International Airport includes passenger pick-up areas and baggage claim, and level six includes passenger drop-off zones and check-in counters. Officials stated on Twitter that media would still be able to access the building at door 616 on the west side of level six.
Airport officials thanked passengers for their patience on Twitter Tuesday evening, as at least a handful of flights were re-routed or delayed due to the security threat. "We appreciate your patience as we put passenger safety first," a spokesperson wrote.
The partial evacuation comes on the heels of a deadly set of bombings in the Belgian capital of Brussels, which left at least 31 dead and hundreds more injured. The attack spurred most major airports across the globe to activate heightened safety precautions.