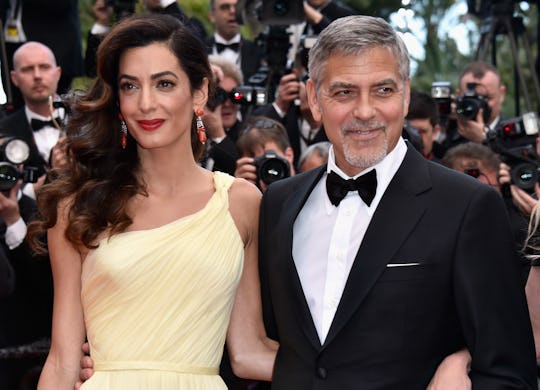 Pascal Le Segretain/Getty Images Entertainment/Getty Images
Denzel Washington Has Advice For George & Amal
"Go to sleep, go to sleep, go to sleep soon-to-be mommy." OK, so that's not how the lullaby goes but it should, at least according to Denzel Washington. Denzel Washington gave advice to George and Amal Clooney, who have twins on the way. And that parenting advice was pretty spot on.
"Sleep now!" Washington told Entertainment Tonight. "Because you won't be sleeping then!" Washington then clarified that he's more concerned with Amal than her husband. "SLEEP NOW! I'm not talking to George, I'm talking to his wife. Sleep now!"
"He's gonna need support, and not from an actor," Washington said. And he definitely knows what he's talking about: Washington raised twins — a boy and a girl — with his wife Pauletta. "It's going to be a real performance. He'll see, but it's beautiful. We have twins and they're grown now, but it's a miracle."
Washington's advice is great for anyone expecting a baby (yes, even for Beyoncé, who is also pregnant with twins). Parents of newborns are advised to take naps while their baby is asleep, but that's harder to do with two babies.
On average, Health Day reported that new parents lose almost an hour of sleep each night, and about 350 hours of sleep total is lost over the course of your baby's first year. So yes Amal, sleep while you can.
But it turns out, Washington's advice may have been misdirected: several studies have shown that fathers of newborns get less sleep than mothers of newborns do, particularly because dads of newborns still have to go to work while most mothers stay at home.
Since Clooney's day job as an actor and producer is very different from most fathers, however, that may not matter much. US Weekly reported that Amal will take a break from her impressive career as an international human rights lawyer, and that the couple "won't hire a nanny."
Washington isn't the only celebrity chiming in: Clooney's long-time pal Matt Damon reacted to the news that the couple is having twins like any parent would: the thought scared the crap out of him. "I don't know how anybody does twins," Damon, who has four kids, said on The Ellen Degeneres Show. "Those sleepless nights, and then there's two of them. Like, there's just no way. But we'll see what happens."
The couple has a few months to prepare: the boy and girl twins are due in June, Harper's Bazaar reported. "They're gonna need help. But, I mean, she's spectacular," Damon said of Amal in a Today interview. "And those kids are really lucky." Damon added that George will be a "great" dad. "He's so smart, he's so loving."
And every good parent needs a good night's sleep to do their best.