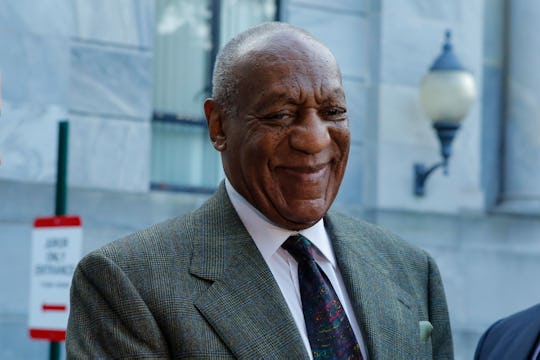 KENA BETANCUR/AFP/Getty Images
Deposition Testimony Bill Cosby Gave In Earlier Case Allowed In Criminal Sex Assault Trial
Bill Cosy has lost another pre-trial petition. A judge on Monday ruled that deposition testimony Cosby gave in an earlier case would be allowed to be heard at his upcoming criminal sexual assault trial. Previously, Cosby's lawyers said they would allow Cosby to testify on the promise that he would not be charged in the Andrea Constand case, according to the Associated Press. But a Montgomery County, Pennsylvania judge denied Cosby's motion to suppress the testimony, stating that Cosby had no such guarantee from prosecutors. Romper's request for comment from Cosby's legal team was not immediately returned.
"This court concludes that there was neither an agreement nor a promise not to prosecute, only an exercise of prosecutorial discretion," Judge Steven O'Neill wrote in his ruling, according to NBC News. In 2006, Cosby had testified in a deposition regarding the alleged 2004 assault of Constand that he had had extramarital affairs with other women, but denied that he had given them drugs or molested them. Cosby said, "I don't hear her say anything. And I don't feel her say anything. And so I continue and I go into the area that is somewhere between permission and rejection. I am not stopped."
The comedian also testified that he obtained quaaludes to give to women that he intended to sleep with in the 1970s.
In the same deposition Cosby said, "Quaaludes happen to be the drug that kids, young people were using to party with and there were times when I wanted to have them just in case." When an attorney asked if the intent of having quaaludes was to give them to women he would sleep with Cosby replied, "yes." Despite that testimony, Cosby denies there was any wrongdoing.
Cosby's legal team has been fighting to suppress the testimony since last February, under the argument that Cosby had self-incriminated himself. Cosby's lawyers say that former district attorney, Bruce L. Castor Jr., testified that he had made the agreement to not prosecute Cosby if he was deposed in 2006. But there is no written evidence of that agreement except a press release distributed after the hearing in which Castor remembered making the agreement. Judge O'Neill said in February, "The only thing that I have in writing is the press release. You are now alleging that a promise was made, based on a press release."
The 2006 testimony was previously sealed after Cosby settled in a civil court with Constand, but today's ruling will mean that prosecutors can use it to fight their case against him. It will likely be used to establish a pattern, along with stories from 13 other women alleging that Cosby drugged and sexually assaulted them.