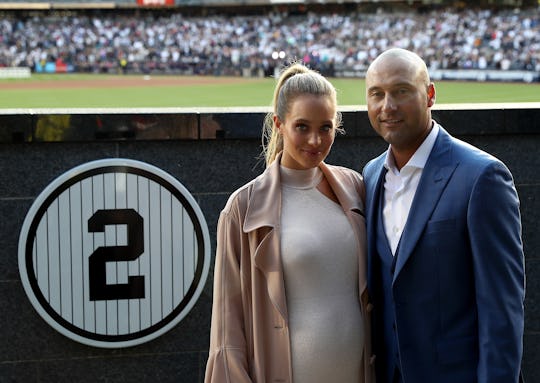 Elsa/Getty Images Sport/Getty Images
Derek & Hannah Jeter Welcome A Daughter, & Her Name Is Beautiful
They celebrated their first wedding anniversary in July, but now former New York Yankees shortstop Derek Jeter and his wife Hannah have another reason to celebrate: they're parents. Derek and Hannah Jeter welcomed their first child together Thursday, according to E! News, and in a tweet Friday, The Player's Tribune announced that they've named their little girl Bella Raine Jeter. News of the couple's pregnancy was first announced on the site back in February (Derek is a founding publisher), and in an essay about meeting and falling in love with her now-husband, Hannah revealed that she and Derek were expecting their first child together, and that they were "looking to the future."
The name they've picked for their little girl is very sweet, but in an interview with People in February, Hannah admitted that it wasn't exactly easy deciding on something they both liked. And although the Sports Illustrated model told the magazine at the time that she and Derek had already picked out a name, it didn't quite sound like she was totally sold on it. When asked what they'd chosen, she said,
I don't wanna tell you, [because] I don't think that'll be the name, personally. We have some brainstorming to do. We have some time.
Part of the reason for the difficulty? Hannah said that, as far as she was concerned, hormones were probably to blame. She told People,
I don't like anything now, that I'm hearing. But that's probably [because] I'm just an emotional hot mess lately. So everything, I'm like, 'Never, I could never name her that!' So we'll see.
The one thing she was definitely sure of though was her excitement over the news that their baby-to-be was a girl. Hannah explained that being an involved aunt and uncle to their two young nephews has meant that she and Derek had already had plenty of practice shopping for "boy things," and that having a daughter on the way felt like a big change. She said,
I'm really excited to buy all the girly fun stuff because we've been buying boy things for years ... I want an Easy-Bake Oven, I want the dollhouse, [and the] Barbie car.
In May, Derek spoke about his upcoming transition to fatherhood in a news conference following his jersey retirement ceremony, according to Us Weekly, and admitted that, while he may be confident in his skills on the field, he couldn't quite say the same about the prospect of being a dad. When asked if he was "ready for the challenges" of having a child, the MLB all-star said,
You know, I prided myself in my career to be prepared at all games. Any time I'm unprepared, it makes me uncomfortable. I'm unprepared [for fatherhood] ... People can give you advice, but until you're in it, you never really know what to expect. So I'm excited, but at the same time I'm nervous.
First-time parent jitters aside, it sounds like the couple has given a lot of thought to what kind of parents they want to be, and how they will navigate the fact that their children are going to have a famous former baseball player as a dad. In her essay, Hannah wrote,
We want our kids' lives to be as 'normal' as possible. They're going to be born into such an extraordinary situation. They're going to have to be some strong little people. We don't want them to be defined by their dad's name — for them, we want him to just be 'Dad.' That will be the piece of him they'll have that the rest of the world doesn't. It will be special, and it will be theirs.
As for raising the next generation of New York Yankees, for now, it doesn't sound like something high on the couple's list of parenting priorities. Hannah said,
We'll let [our children] know that they are strong and smart, and that they can do anything they put their minds to ... I hope that they know what they want and won't settle for less. And if they want to play baseball, well, we're gonna have a little talk first.
Derek and Hannah might not have felt totally certain when it came to baby preparations, but when it comes to having a newborn, the truth is that there's always so much to learn that you couldn't possibly know ahead of time. It sounds like they've got the most important stuff down though, so it's probably safe to assume they'll do just fine now that their daughter is finally here.