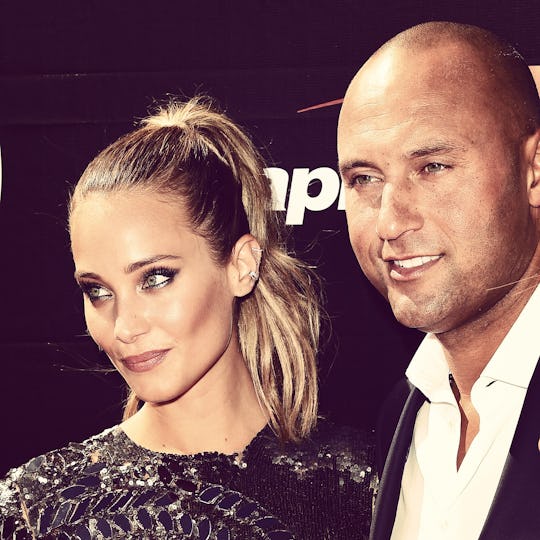 Jason Merritt/Getty Images
Derek Jeter Is Engaged & The River Of Tears This News Has Unleashed Cannot Be Stopped
Everyone take a deep breath; I have some bad news: Derek Jeter is officially engaged to Hannah Davis, his girlfriend of three years. Jeter confirmed his engagement Tuesday in a blog post about his dog. (Men and their dogs, right? Don't judge, the ex-Yankee is totally sentimental.) Apparently, Jeter wrote about his dog Kane because the Mastiff turns one today, before adding, coyly, that the dog was a gift from his fiancé. Fiancé.?! Come again? That's all of the information we need before we cry into our Cracker Jacks and baseball flicks. 
According to Jeter, he popped the question last month, but this is the first time either half of the couple has made the announcement public. And if you weren't paying attention to celeb sightings this weekend, don't worry — a little Google searching led me to some evidence we all overlooked: Davis rocking her bling while on a shopping trip with her mom. The 25-year-old model has been dating Jeter since 2012 and, in all fairness, they are super adorable together. And while she's been modeling since forever, Davis made a name for herself this summer as the cover model of  Sports Illustrated's Swimsuit Issue. And now that she has a ring on it, it's fair to gush over how adorable her and Jeter are right? 
They Booze Together
They're Matchy-Matchy In The Best Way
They Brunch In Style
And Anyway, That Dog Is Super Cute (And Huge)
In other words, it's entirely acceptable if you need to mourn Jeter's bachelorhood tonight (and tomorrow). Call it in. 
Images: Jason Merritt/Getty Images; Giphy (2)