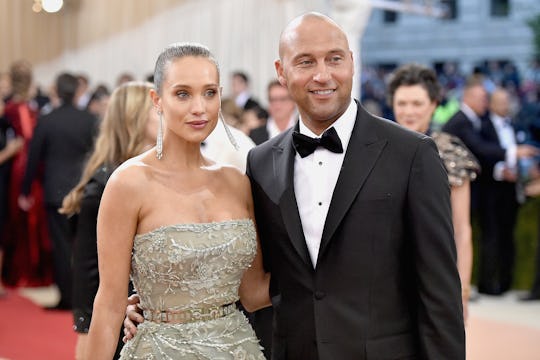 Mike Coppola/Getty Images Entertainment/Getty Images
Derek & Hannah Jeter Will Be Having A Baby Girl
It may be time to break out the Little League gear, because Derek Jeter's wife announced they are expecting a baby. In a heartfelt essay published Monday, Hannah Jeter detailed the surreal feeling of dating the baseball icon, her love for him, and mused on the future of the family that the couple is starting to create together. Although the baby girl that they are now expecting — and the siblings that may follow her into the world — will never experience firsthand the fervor of Derek Jeter's 20-season run with the New York Yankees, from which he retired in 2014, she will represent the next phase of his life as a family man — and probably "Coach" as well.
Hannah Jeter didn't share a due date, but recognized that her pregnancy coincides with the planned May 14 retiring of her husband's jersey number, a monumental career moment as well as the official end of an epic era for the former shortstop. But the anticipated birth of his first child will continue his legacy in a whole new way, so, according to the essay that appeared in The Players' Tribune, he's already chosen a name for her — one that his wife hasn't yet agreed to. "Whatever her name is, I know she'll run circles around him," Hannah Jeter wrote.
The couple married in July 2016, having dated for the final two years of Derek Jeter's baseball career. A former Sports Illustrated covergirl at 26, Hannah Jeter grew up in the Virgin Islands and did not having a real concept of what a huge deal the man she was dating really was when she started attending his games. "It was a wild feeling, seeing all of that affection, live and up close," she wrote of the way people went crazy over Derek Jeter at the stadium. "It felt almost as if New York and I were dating the same person."
And the fame and rigor of baseball, including constant travel, was an intense environment — one that would have been tough to bring a kid into. In 2014, Derek Jeter, now 42, told Brian Williams of NBC News:
I have the utmost respect for these guys that are able to do it — you know, missing their kids' birthdays and not being able to see them play tee ball or summer ball and missing a lot of time. So it's another reason why I feel as though now's the time. I mean, I want to have a family. Who knows when it's gonna be? But I look forward to it.
Now, the time has come. And with the plan of raising their daughter, and any little brothers or sisters she may one day have, to "learn to help others, and to care for others, and to give back to the world," as Hannah Jeter wrote, baseball won't be the only thing on their minds.