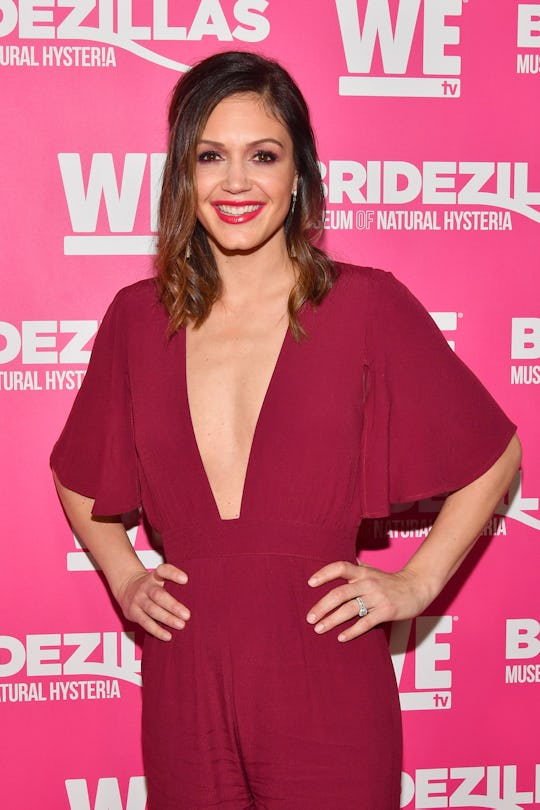 Dia Dipasupil/Getty Images Entertainment/Getty Images
Desiree From 'The Bachelorette' Is Expecting Baby No.2 & Roses For Everyone!
The Bachelor franchise may not always be known for it's long-lasting romantic success stories, but former Bachelorette Desiree Hartsock and her now-husband Chris Siegfried are one very special exception. The couple met on season nine of the popular reality show, and Siegfried was the lucky recipient of Hartsock's final rose. But instead of calling it off as many of the show's engaged couples do, they tied knot in 2015 — and then welcomed their first child a year later. Now Desiree Hartsock from The Bachelorette is pregnant with her second child, according to Us Weekly, and honestly, their growing family couldn't be any cuter.
In an Instagram post Monday, Hartsock posted a family photo that showed her almost 2-year-old son, Asher, reading a book called I Am A Big Brother! in anticipation of his soon-to-be role. And although the tot didn't exactly look all that impressed by the subject matter — Hartsock also included a second image where Asher was full-on crying — it's pretty clear that the couple was thrilled to share the update with their followers. In the caption, Hartsock wrote that they were "beyond excited to finally announce that [they are] expecting baby number two," and added, "we are glad to share our good news with you all and can't wait to take you along for the ride."
In an exclusive interview, Hartsock told Us Weekly that she is due with her second child in January, and said that, while she's enjoying being pregnant again, it has been quite different than when she was pregnant with her son. For one, she wasn't actually working during her first pregnancy, and now the 32-year-old is busy designing her own line of bridal gowns, Desiree Hartsock Bridal. Throw an active toddler in the mix, and well, it's no surprise to hear that Hartsock's pregnancy has been a bit less relaxed this time around.
Siegfried explained that he has tried to ease that burden as much as possible by taking over the cooking and other duties, but there's no doubt that they will definitely have their hands full when their little one arrives. For now, though, it seems they're taking it all in stride — and spending plenty of quality time together as a family.
For Mother's Day this year, that meant spending the weekend in Portland with relatives, where Asher was able to clock lots of playtime with his cousins (preparation for having a little brother or sister perhaps?). But Hartsock told People that her husband also had a sweet surprise in store for her: a "much-needed massage appointment," which, let's be honest, is always a nice way to spend the holiday.
Hartsock hasn't yet indicated whether Asher will have a little brother or a little sister, but if their past pregnancy is any indication it might not be a secret for much longer. Four months after they first announced they were expecting in 2016, Hartsock and Siegfried shared that they were actually having a boy, according to E! News. In an Instagram post the couple posed with their puppy and a baseball that read "it's a boy" (Siegfried, a mortgage banker, was previously a minor league pitcher for the Chicago Cubs).
As happy as they are to be expanding their family though, it doesn't necessarily mean they will eventually have their own little baseball team. Hartsock told Us Weekly that while they haven't entirely ruled out the idea of having more kids, having more than two means "you need an army," and that they might not be entirely ready to take on the challenge.
As much fun as it is to watch The Bachelor and The Bachelorette and hope that the final rose will lead to a happily ever after, most of the time it seems the reality stars end up having much better luck in the relationships they go on to have after the show. But for Hartsock and Siegfried the show did end up helping them find the partner they were looking for — and now, they're getting ready to make their family a party of four.