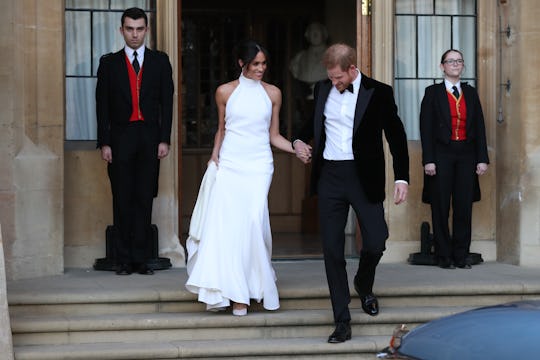 WPA Pool/Getty Images Entertainment/Getty Images
Why Meghan Markle Reportedly Moved Prince Harry To Tears At Their Wedding Afterparty Is So Sweet
The royal wedding festivities didn't end after cameras stopped filming Prince Harry and Meghan Markle's ceremony last week. After the couple tied the knot, they had two wedding receptions where their friends and family continued to celebrate the newlyweds. Although people weren't able to look inside these parties, some details have emerged in the days after and they might give you some serious FOMO. For example, the new Duchess of Sussex chose to recite some romantic words during one of the parties and Markle's royal wedding reception poem reportedly made Prince Harry and guests listening tear up. Who wouldn't want to hear that?
On the night of the royal wedding, Kensington Palace confirmed that Markle would break traditional royal protocol and deliver a speech, according to People. Not only did she break tradition by daring to give a speech in general, she also did it by delivering her speech in the form of a poem, according to The Mirror.
Markle reportedly read the "emotional poem" to her new husband, gushing over her love for him, and revealing to the wedding guests that their first meeting was "love at first sight," according to The Mirror. Markle's words must have hit hard — the poem was reportedly two minutes long, according to The Mirror, and even made Prince Harry (and other guests) tear up from her words.
"She read the poem like the professional actress that she is," a wedding guest told The Mirror. "Most of the room was misty-eyed by the final line." The guest added, according to Express, "Harry looked so proud and had to wipe away a tear."
Although people would have probably paid thousands of dollars to hear Markle read that poem, they will just have to take the wedding guests word for it for now. From the sound of it, the poem was incredibly special, especially since it included details about their first date and when they fell in love, according to The Mirror. "She spoke about their first date and falling in love at first sight," the guest said, according to Express. "Meghan said she knew she had met her prince from the off and how blessed and lucky she feels to have found such a profound love."
As previously stated, by her reading this poem, Markle broke protocol — and there was a reason why (not just because she felt like doing things her way). Typically, the bride's father is supposed to be the one giving the speech, according to ELLE, but since Markle's dad, Thomas Markle, was unable to make it to the wedding, Markle herself stepped in. And from the sound of it, it's a good thing she did give that speech on her own. Without it, guests might have never gotten to really hear a personal take on Markle and Prince Harry's relationship, which likely made their wedding so much sweeter for their guests.
The speech not only included a poem, but reportedly included some other very touching details. Royal commentator, Katie Nicholls, told Entertainment Tonight that Markle not only reportedly paid tribute to her new husband, but his family, too. Nicholls told Entertainment Tonight:
She is an outspoken, self proclaimed feminist and I was told she wanted to have the chance to say in person a very big thank you to the royal family, which is exactly what she did. When it came to her new husband, Prince Harry, she said "I finally found my prince." It was very romantic and sweet.
Markle also reportedly told guests during her speech that finding love was "worth the wait," according to Harper's Bazaar, and that she could not wait until she and Prince Harry "started their next chapter together." Prince Harry also reportedly gave a speech, too, according to Harper's Bazaar, which was full of "sarcasm and humor" and he reportedly stated that he could not wait for him and Markle to become a team.
Just when people thought that they couldn't love the couple any more than they already do, Markle recites a romantic and heartfelt poem about her love for Prince Harry. I can't be the only person teary eyed from the sound of that, right?