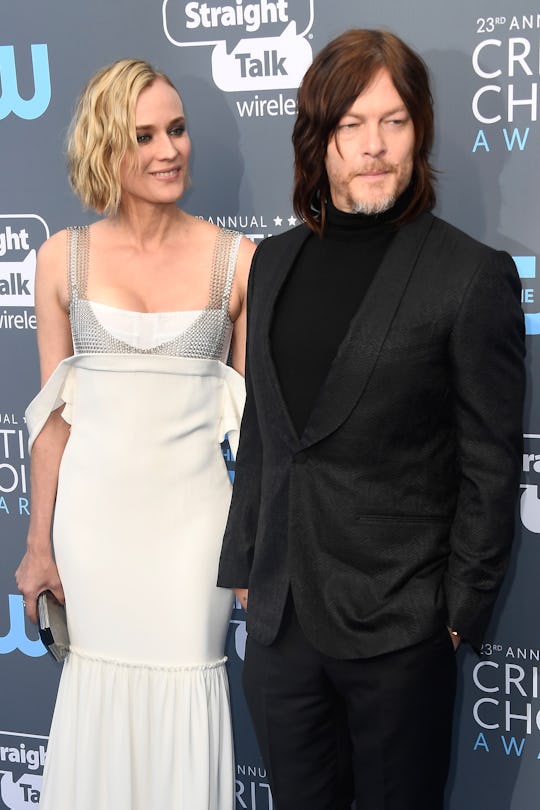 Frazer Harrison/Getty Images Entertainment/Getty Images
Diane Kruger & Norman Reedus Reportedly Have A Baby On The Way! Here's What We Know
If you were looking for a bit of good news today, look no further. According to Us Weekly, multiple sources have confirmed that Diane Kruger and Norman Reedus are reportedly expecting their first child together. Romper's requests for comment from both Kruger and Reedus' representatives were not immediately returned and neither star has yet to publicly comment on reports that they have a baby on the way, but it's still cause for celebration.
Indeed, reports of the 41-year-old actress' rumored pregnancy are still just reports at this point, but there had been rumors that she could be expecting for some time now. For instance, back when Kruger walked the red carpet at the Cannes film festival, rumors of her pregnancy began to swirl, with multiple sources seeming to confirm the news to Page Six. Per the speculations, Kruger was "seen at events this year abstaining from alcohol and wearing billowing, less-than-revealing outfits to obscure the good news," and at the film festival in mid-May, she also wore looser outfits. Of course, none of this actually means that Kruger is pregnant with her first child, but the actress has also been doing some possible hint-dropping on social media to fuel the rumors as well.
Back on May 24, Kruger shared a mysterious photo of herself with a caption of only the footprint emoji. And while that could mean a million different things, many seemed to think that it was her way of announcing the news. Really though, Kruger has yet to formally say or announce anything, so it's impossible to know whether any of these anonymous sources are to be believed. After all, this isn't the first time that the actress has been rumored to be expecting a baby. Heck, it isn't even the first time Kruger and Reedus have been rumored to be expecting a baby together.
In April 2017, OK! magazine reported on speculation that the two were expecting their first child together, pointing out social media posts the two had made, mostly because she was found "posting (and then deleting) a questionable photo on Instagram which highlights her belly," according to the magazine. Again, this was over a year ago, and Kruger never commented on the claim, so these new reports could just be the same thing all over again. On the other hand, there's also a suspect Instagram post featuring none other than rumored dad-to-be, Reedus.
Yes, on Tuesday — the same day that Kruger's pregnancy news broke — Reedus' Walking Dead costar, Jeffrey Dean Morgan, posted a photo of the possible new dad on Instagram, holding his own baby girl, George Virginia Morgan, who he shares with wife Hilarie Burton. "Just found this... Uncle Norm and George on her 3rd day birthday," Morgan wrote alongside the photo of a smiling Reedys cradling the baby girl. Did he really just find it, though, or is he doing his part to confirm the baby news? Or maybe he's just messing with us. Either way, it's an adorable photo, and further proof that Reedus would make a fantastic father.
In fact, he already is a fantastic father. Reedus is a dad to 18-year-old Mingus Lucien Reedus, who he shares with his ex-girlfriend, Helena Christensen. Clearly, Reedus would make an excellent father again, but it really is up to the happy couple when it comes to whether or not they decide to have a baby. After all, these rumors might be just that: rumors. And if they are, then the couple deserves privacy. And if they aren't just rumors, and Kruger and Reedus are expecting, then they deserve privacy at this time as well.