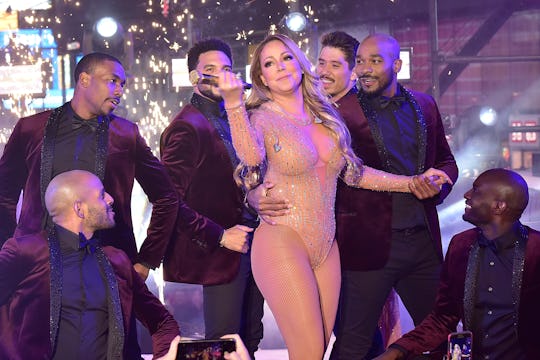 Eugene Gologursky/Getty Images Entertainment/Getty Images
Behind The Mariah & Dick Clark Productions Feud
When people in the United States woke up on Sunday morning to a new year, there was one story from 2016 that carried over well into the new year. People could not stop talking about Mariah Carey's mishap during her New Year's Eve performance on New Years Rockin' Eve with Ryan Seacrest. Since that night, there have been claims as to who was to blame for the mishap. But one thing is for sure — Dick Clark productions says Mariah Carey's "sabotage" claims are baseless.
On Sunday night, representatives for Mariah Carey told ABC News that a reported "malfunctioning ear piece" and reported "many technical difficulties" were involved in the performance's disarray. Carey's representatives at BWR claimed that technical difficulties were to blame for the lyrical misstep. Telling ABC News:
Last night, just prior to taking the stage, Mariah alerted production and the stage managers that her ear piece was not working. They told her it would be fine once she went on stage. However, that was not the case and they were again told that her ear piece was not working. Instead of endeavoring to fix the issue, they went live. Mariah rehearsed at 3:00 p.m. yesterday with no sound issues. She was intent on honoring her commitment and therefore took the stage essentially flying blind. It is not uncommon for artists to sing to track during certain live performances. Any allegations that she planned to lip synch are just insult to injury.
Carey's representatives at BWR and representatives at Dick Clark Productions did not respond to Romper's request for comment.
Dick Clark Productions, who produces the New Years Eve show, had this to say in response, claiming that there were no alleged technical difficulties in Carey's performance, according to CNN:
As the premiere producer of live television events for nearly 50 years, we pride ourselves on our reputation and long-standing relationships with artists. To suggest that DCP, as a producer of music shows including the American Music Awards, New Years Rockin' Eve, and Academy of Country Music Awards would ever intentionally compromise the success of any artist is defamatory, outrageous, and frankly absurd.
In very rare instances there are of course technical errors that can occur with live television, however an initial investigation had indicated that [Dick Clark Productions] had no involvement in the challenges associated with Ms. Carey's New Years Eve performance. We want to be clear that we have the utmost respect for Ms. Carey as an artist and acknowledge her tremendous accomplishments in the industry.
Mariah Carey responded on Twitter, shortly after the performance:
So how did this finger pointing come about? In case you missed it, Mariah Carey had a lyrical misstep during her performance on New Years Rockin' Eve With Ryan Seacrest shortly before the clock struck midnight when she missed her cue to start singing. According to Billboard, Carey was set to perform three songs — after performing "Auld Lang Syne" Carey was set to perform hit songs "Emotion" and "We Belong Together" but the performance "went down hill." Carey claimed during "Emotion" that she could not hear through the monitors and tried to sing along with the track, but couldn't recover. Carey finished the performance with a smile, continuing all of her choreography and steps until the performance of "Emotion" was done. But the damage had already been done. "It just don't get any better," Carey said at the end of the performances.
In the aftermath of the performance, it seems like fingers have been pointed in every direction, with people looking for a scapegoat to explain the performance's mishaps. If anything, Carey's performance proves how unpredictable live television can be — anything can happen.